Details

Category: News
Published: Sunday, 19 November 2017 15:50
Written by Bill Jaynes
Hits: 867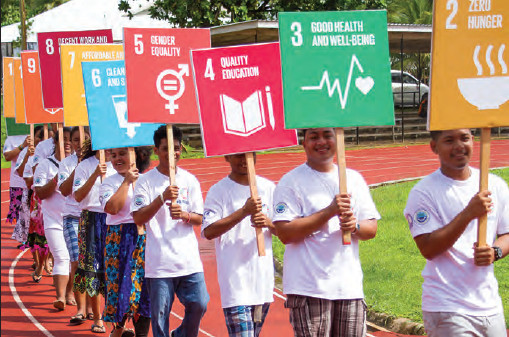 By Bill Jaynes
The Kaselehlie Press
October 24, 2017
Pohnpei—Pohnpei celebrated United Nations day this morning at the PICS track and field. A highlight of the program was the introduction of FSM Youth for the UN's Strategic Development Goals (SDGs), each of them carrying signs representing one of the 17 goals decided on by the member nations of the United Nations.
Though the opening of the event was delayed by rain, everyone in Pohnpei knows that rain is a sign of blessing. Once the rains passed, Master of Ceremonies, Norleen Oliver quickly took the microphone and began the program.
Father Ken gave an inspiring opening prayer.
Oliver gave an outline of the day's agenda and explained the selection, training and participation of the FSM Youth for SDGs.
Read more: Pohnpei celebrates 72nd anniversary of the United Nations and new commitments to world goals