Muslims held first Annual Conference of Peace in Kosrae
Details

Category: News
Published: Monday, 20 March 2017 09:10
Written by Kpress
Hits: 5579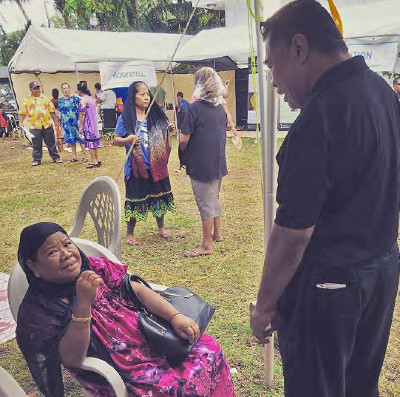 March, 2017 - Kosrae, known as the Jewel of Micronesia is also famously known by its proud Christian prominence. It was with no surprise that in 2011 when a Muslim denomination known as Ahmadiyya Muslim Community established themselves in Kosrae, they were faced with much hostility. The first instance in September of 2014 was a petition with nearly a thousand signatures calling for the ban of Islam from Kosrae. This was followed by a State sanctioned Legislative meeting held in February of the following year to question the social impact that Islam would have on society in Kosrae. And this was not the end of the discussion about Islam, it was followed by local municipal level attempts at proposing ordinances aimed at banning Islam, taxing the Muslim community specifically, and even a Leadership conference in which one of the two main items was regarding the presence of Muslims in Kosrae. With all of this there was with no surprise a clear response by letter dated January 29, 2016 from the Department of Justice of the FSM government stating that such proposed ordinances and any actions that conflict with the FSM constitution which insures the right of freedom of religion will be taken seriously and criminal actions can be charged.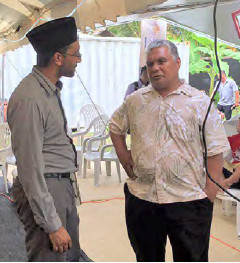 Over the past two years the community was also facing discrimination on a smaller scale from local stores and businesses as well as from the relatives of those who had joined the faith. There was a taxi service, which is no longer operating, which refused rides specifically to Muslims. There are stores that refuse to sell to Muslims and not only were rocks thrown at Muslims while they drove by, but their buildings were tagged and vandalized and they even up until recently received death threats. Throughout this whole period, the community remained peaceful and continued to find ways to help local residents and people of different faiths to come together. They launched a "Beautify Kosrae" project at the end of last year which aimed to provide basic renovations for nearly 10 residents among whom some were widows and others were neighbors of different faiths. Similarly, they launched a program to provide free clothing to more than 100 women and young girls all over Kosrae. The clothing was fancy Indian style dresses and was donated by members of the Ahmadiyya Muslim Community USA to the people of Kosrae. And finally, the Ahmadiyya Muslim Community held its first Annual Conference of Peace in Kosrae on Saturday 25th of February. It was the first Peace conference ever held in Kosrae. The aim was to bring people of different religions and different backgrounds together for the common goal of peace. Delegations from the Marshall Islands arrived on Nauru Airlines, some even a week before to help with the preparation of the event. Another delegation from Pohnpei also arrived, they were local Ahmadiyya Muslims who also came for the event. And there was also a delegation from Kiribati. There were nearly 30 people who had flew in to participate in this historic first Annual Conference of Peace. The event hosted speakers of different faiths from four islands: Pohnpei, Kosrae, Majuro and Tarawa, making it a truly diverse experience. The opening speech was made by the visiting Imam (Muslim Religious Minister) from the Marshall Islands, Imam Ahmad, who spoke on the topic of 'God, the source of Peace'. "To begin the process of establishing peace, the first step that we need to think about is that we must have peace within our own hearts and in our minds. And once we have made peace with our own selves and our own hearts and with our own thoughts, we must start thinking about our attitude towards our families. If our relationship with our close relatives, our wives, husbands, brothers and sisters, parents, children, that If all of these relationships cause us unrest and problems, then we can never have peace in our own homes."
Next a local Kosreaean member of the Ahmadiyya Muslim Community who is also the former Mayor of Malem, Mr. Maheta Kilafwasru, gave the welcome address to the different guest speakers. He mentioned that "If you look around you, you will see that there are people from the four villages of Kosrae, from Marshall Islands, Kiribati, Pohnpei, Germany, Canada, America and many other places. This gathering is the first, and it shows that when it comes to God, we are all one, and we all come together for the love of God." He further said that "in this Peace conference, the goal is that each individual today learns something that they take home so that you can all begin to live and practice peace. It is not enough that you just preach and talk about love, we have to show peace and love from our actions."
A Senator from Utwe Village of Kosrae State also addressed the audience with the following words. "Let me honestly tell you that I think the dream for every human being is to have peace, and that peace can be attained by respect, love, understanding and by learning each other's religion. That doesn't actually mean conversion, but it's so that we can lead a community to peace. Like I said in the very opening, that I have a dream that some day we will come together as God-loving people, peace loving people and its our responsibility to continue to sit down [together]."
The next speaker was visiting from Kiribati and is the former Member of Parliament and Minister of Education of Kiribati, Mr. Teiraoi Teberia. He mentioned that "As fathers and mothers of society, we don't like war, we like peace. I have been here for a week now, and I stayed with them. We thank them for their daily prayer and for their teachings." He further spoke about Peace through public service and mentioned that the majority of employment in Kiribati is currently through government in the public service sector. Explaining that the three main sectors that have the majority of employment is within the Health, Education and Police departments. He further added that by making necessary amendments to the constitution is also a way to attain peace, as Kiribati is currently for the past one year been led by a newly elected government that has already began to make changes for the people of Kiribati.
Pastor Mullen Talley of the local Kosraean Pentecostal Church also joined the event and shared his thoughts. He spoke about 'Love of thy neighbor' and how events like these help to foster love and compassion among God's children and its something we should always continue.
Mr. Kembo Mida Jr., Attorney of Ramp & Mida Law firm speaking about how to attain peace through the lens of the Law said the following, "I will give you a very basic example about peace and the law. About a year and a half ago I was told by the doctor that I was too heavy. I weighed 220 pounds and the doctor said I had to lose 40 pounds. So I started running and I've lost 40 pounds. So I very much appreciate running, everyday how I attain peace physically is through running. I love running and I run almost every day. Now imagine if the government passed a law that said that only basketball and volleyball is allowed in Kosrae, I wouldn't be able to run in Kosrae and running is my peace physically. So I am here to say that our constitution must be followed and that It doesn't matter what religion we are. I am a Catholic and I'm friends with Kauser and his family who are Muslims. And I'm told that Kosrae has a big Protestant population but regardless of our religion, we must follow the constitution which allows all of us to practice our faith whatever that may be. I believe it is very important that the law is followed because it will help us to attain peace. I am here not as Muslim, and not as their attorney, but as a supporter of the Constitution."
The next speech was by Mr. Tatoa Kemkeiti from Kiribati who is a former student of BYU Hawaii who spoke about the effects of poor health on an individual's attainment of peace.
Additionally, the Ambassador of Australia to FSM, George Fraser, was not able to be present at the event, but sent his thoughts on the subject. He writes "For those of you I have spoken with previously, you will know it is a goal of the Australian government and people that our neighbours live in Stability, Security and Prosperity. Peace is essential to achieving these conditions, and it is a central theme of the Ahmadiyya community. I thank them for their global efforts and initiative in calling this and other similar conferences. At this point, I would like to acknowledge the foresight and wisdom of the Kosrae State legislature in passing the first Family Protection Act in 2014 which will do much to maintain peace in their community."
He further writes, "There are many elements forming the pathway to peace. An important one however must surely be constant and reasoned dialogue; whether between individuals or nations." He then highlighted how forgiveness, consideration and sharing resources are all essential blocks for attaining peace. He ended with his final exhortation that "whatever insights you gain from this conference about peace-making – please share them widely, most especially with the children into whose hands we will deliver this earth."
And finally, the day was closed with remarks by Imam Kauser, the Imam and Religious Minister of the Ahmadiyya Muslim Community of the four states of FSM. He stated, "Today, what we are doing here, is that we are also planting a tree, the roots of which is peace. In this way our children and next generation will remember this day that we sat together for Peace. The current worldwide leader of the Ahmadiyya Muslim Community, Mirza Masroor Ahmad said at his address to European Union that 'the basic building block for peace in society is tranquility and harmony within the family home. If there is disturbance in the home it will negatively affect the local area and that will affect the town or city. In the same way, the state of the town or city affects the peace of the entire country and ultimately the state of a nation affects the peace and harmony of the region or the entire world."
Other notable guests included the Mayor of Utwe village of Kosrae, and representatives from the Church of Jesus Christ of Latter Day Saints and Salvation Army and other individual members from different churches such as the Congregational Church, Catholic Church and Seventh Day Adventists. It was a mixed array of people from different countries and backgrounds coming together to bring society closer to peace. With all of the unrest and chaos around the world, this was a step forward for humanity as people gathered irrespective of their differences, and chose peace and love and humanity over division and hatred. It was indeed a very unique event. The Ahmadiyya Muslim Community is expecting to host this event for the coming years, and will maintain this annual event hoping to host it in different states as well.