Details

Category: News
Published: Saturday, 17 June 2017 13:40
Written by Habele Foundation
Hits: 281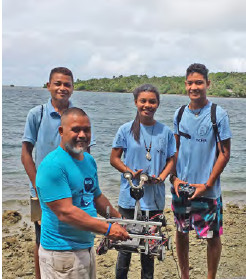 Habele - JUNE 2017
Elaborate cultural dances and seafaring canoes have made the Micronesian Islands of Yap famous, but this month it was the ultra-advanced Science, Technology, Engineering, and Math skills of local students on display.
An annual competition and exhibition organized by Yap Catholic High School drew nearly 200 community members who came to watch and support 70 high school student participants.
Ambitious freshmen students showed off complicated robots designed, built, and refined, over the spring semester. First year students also presented science fair projects completed for their Earth Science course. Sophomores involved with the STEM and Robotics Club ran demonstrations which included sound wave experiments, and tests of strength utilizing complex force sensors.
Upperclassman were not to be outdone. Juniors displayed science fair projects focused on issues directly pertinent to Yap including climate change, erosion, and seawater intrusion. Seniors explained circuitry design and supervised underclassmen's demonstrations.
Read more: Advance Science, Robotics, Showcased by Island Students