CNMI police trainers graduate 63 police officers from island wide police training
Details

Category: News
Published: Monday, 18 June 2018 00:43
Written by Bill Jaynes
Hits: 3506
By Bill Jaynes
The Kaselehlie Press
June 1, 2018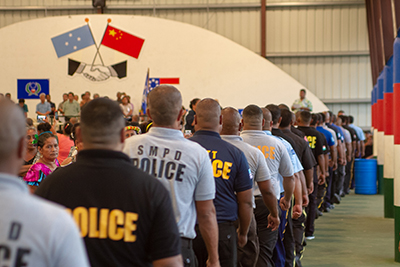 Pohnpei—This evening 63 police officers from the national, state and municipal governments graduated from a ten day law enforcement training course conducted by seven certified officers from the Commonwealth of the Northern Marianas (CNMI) Department of Public Safety.
The training was facilitated by an agreement between CNMI Governor Ralph Torres and Kolonia Town Mayor Jose San Nicolas.
Officers who participated were trained in "breach team" techniques that are useful when law enforcement officers have to enter a property by force. They were also trained in fire arm safety and shooting techniques.
At the graduation ceremony at the Kolonia-China Friendship Gym, each of the officers received a certificate of completion of the training.
In addition to the training provided by the government of CNMI, Governor Torres also donated several handguns to Kolonia Town for law enforcement use. Those handguns were shipped to the FSM Department of Justice pending the possibility of their release to the Kolonia municipal government.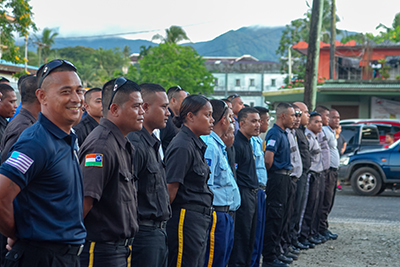 FSM's Secretary of the Department of Justice Gallen said that he authorized the use of the handguns for training purposes but that after the training they went back into national government custody.
"Handguns are a very dangerous tool," he said. He said that though the training was a good introduction to the use of handguns he didn't feel comfortable certifying anyone in the municipal governments to carry one. "It doesn't mean they're qualified to use one," he said.
Pohnpei's Governor Marcelo Peterson was present at the ceremony as were Secretary Gallen, Municipal leaders, and family members of the graduates. The ceremony lasted for several hours.