Unusable Kolonia tennis courts back in service and better than ever
Details

Category: News
Published: Monday, 18 June 2018 00:43
Written by Bill Jaynes
Hits: 1468
By Bill Jaynes
The Kaselehlie Press
May 30, 2018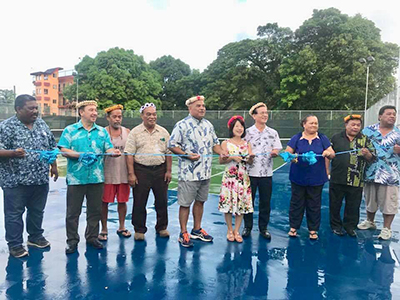 Kolonia, Pohnpei—Tennis courts in Kolonia that have been completely unusable for many years have been given a new birth thanks to a special project sponsored by FSM Congressman David Panuelo.
The $150,000 project bill paid for a complete renovation of the courts along with a new practice court. Kolonia Town Mayor, Jose San Nicolas hosted the turnover ceremony this afternoon.
Panuelo wrote on his Facebook page that the addition of the new courts means that Pohnpei now has six total tennis courts which means that Pohnpei can now host regional and sub-regional tournaments. He wrote that before the Micro Games nearly four years ago, the Pohnpei Delegation at the FSM Congress funded the renovation of the four courts in Nan Pepper, Pohnpei, at a cost of $300,000.
Those courts are still being well maintained and are in consistent use.
As this afternoon's ceremony ramped up, Dr. Bryan Isaac, of the Pohnpei Tennis Club said that the new courts have a few negligible low spots and that the nets needed to be constrained in the center, but that otherwise, the facility was a great addition to the sport. He seemed to think that those little problems would be easily fixed but that the courts would certainly be useful.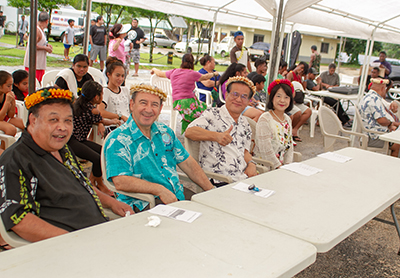 Present for the ribbon cutting ceremony were Lt. Governor Reed Oliver, Kolonia Town Speaker Jack Harris, Ambassador of Australia George Fraser, Ambassador of Japan Ryoichi Hories and his wife Yuko, Associate Justice Nickondro Johnny, members of the Pohnpei Tennis Club and the Pohnpei Sports Commission along with interested members of the community. Wahnparons Bilimon Henry and Midion Neth were also present.