SPC report on sea cucumber populations recommends moratorium on commercial harvest should remain
Details

Category: News
Published: Monday, 18 June 2018 00:43
Written by Bill Jaynes
Hits: 3523
By Bill Jaynes
The Kaselehlie Press
June 8, 2018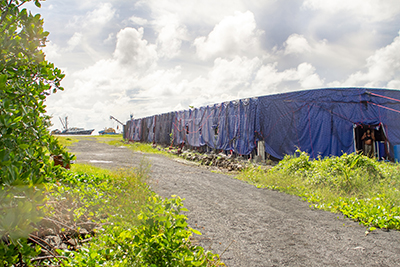 Pohnpei—The Secretariat of the Pacific Community has released a 55 page assessment of sea cucumber stocks in Pohnpei waters. The result suggest that sea cucumber stock have not recovered from a long history of harvesting prior to the 1991 moratorium, and may have been impacted by other factors such as the 2016 harvest, the subsistence harvest for the local market, a disruption to the ecosystem, and detrimental fishing practices.
It says that a preliminary cost-benefit analysis, based on calculated harvestable stock of pinkfish and surf redfish, indicates that there would be little benefit from proceeding with such a small harvest and that it may encourage illegal fishing to generate more profits.
It says that fishers earned a total of $16,854 during the 2016 harvest. The estimation of the selling prices for the harvested sea cucumbers was $123,631. Pohnpei State collected a $25,000 licensing fee from Young Sun Corporation.
Because of those factors, the SPC report recommends maintaining the moratorium on commercial harvesting but it says that if Pohnpei State decided to allow a commercial harvest of sea cucumbers it should at the bare minimum develop a management plan before any harvest is conducted. The assessment provides several management suggestions.
The civil action filed by the Mwoalen Wahu against Pohnpei State and Young Sun Corporation in 2016 resulted in a temporary injunction against implementing the planned commercial harvest of sea cucumbers. The case is still before the court for consideration of the issuance of a permanent injunction but it has been stalled for quite some time.
Meanwhile, Young Sun has recently set up a large tent for a sea cucumber farming project behind a locked gate at the popular swimming spot at the APSCO dock. In its regulations for a sea cucumber harvest, Pohnpei's Office of Fisheries and Aquaculture requires a rebuilding of harvested stock through seeding or spawning. It is not clear what method Young Sun is using at their new facility at the APSCO dock and we could not find a way to reach them.
Sea cucumber commercial aquaculture is notoriously difficult. According to the SPC report only a few species of sea cucumbers have the ability to regenerate asexually. With those varieties a single sea cucumber can be cut in half to generate two distinct new sea cucumbers but it doesn't always work and sea cucumbers that have been cut are more accessible to predators and infection if reintroduce into the wild too early.
Dr. Manoj Nair of the College of Micronesia's Land Grant program has been working on research for commercial sea cucumber aquaculture for quite some time. Through theft, disease, or just plain natural selection, the harvests have not been particularly promising but they are still working on it.
Elijah Tarofalmal is in charge of two Land Grant sea cucumber farms in Yap. They established two farms. 3,000 sea cucumber fingerlings were kept in a farm just a few feet from O'Keefe's Waterfront Inn in Colonia. 7,000 were planted off the shore of an island in the lagoon. After torrential rains for several days in Yap, only 76 of the 7000 in the lagoon were left alive. He transferred those to the farm off the shore of O'Keefe's, ultimate all but 200 of the 10,000 planted survived. He says that the 200 that remain are doing fine now.
Dr. Nair says that they currently have 14 million larvae in tanks. He said that he wished that meant there would be a yield of 14 million full grown sea cucumbers but only a small percentage of those will survive to a size that can then be transferred into a farm to grow to full size. Once there, any number of things can happen.
Dr. Nair's program works specifically on aquaculture methods for sea cucumbers that Pohnpeians eat and that were banned from commercial harvest for export.