Book on Pohnpeian traditional culture has just published!
Details

Category: Education Corner
Published: Thursday, 12 July 2018 05:23
Written by Bill Jaynes
Hits: 1401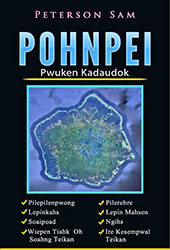 We are very happy to announce that the book "Pohnpei: Pwuken Kadaudok" (Volume 1) has just been published! This book was initially planned by Peterson Sam, one of the Directors and Co-Founders of Kousapw Roasdi, a Pohnpei based NGO. The idea was inspired by his initiation in forming a group or forum on Facebook called "LEPINKAHS / LEPINMAHSEN" (currently 1,557 members), where people discuss about Pohnpeian oral heritage such as proverbs (lepinkahs) and archaic expressions (lepin mahsen). Takuya Nagaoka, Executive Director of NGO Pasifika Renaissance, who has been involved in cultural preservation and revitalization on Pohnpei for two decades, had assisted the whole process of this Kousapw Roasdi's endeavor since 2016, from securing a grant to serving as an editor of the book.
This book is intended to preserve Pohnpei's disappearing oral traditions and traditional culture. It is written in the Pohnpeian language and includes proverbs, archaic expressions, chants (ngihs), legendary tales (soaipoad), and other knowledge (e.g., Pilepilenpwong, Pilerehre, customs related to sakau). It is for Pohnpeian children and adults, on Pohnpei and overseas and is meant to enhance cultural pride and empower communities.
You can download a free copy in PDF and Kindle formats from https://goo.gl/gng6SL. A paperback book is also available for purchasing in Amazon.com (https://goo.gl/c19drS) for $5.38 (please note the author will not receive any royalty from the sales of the book). This project was funded by the Pacific Development and Conservation Trust (established by the New Zealand Government).
We hope to continue to working on new volumes to cover other important topics in crucial need of preservation for future generations and would like to thank all the people who supported the project.