Students embark on annual overseas exchange program in Japan
Details

Category: News
Published: Thursday, 12 July 2018 05:23
Written by Bill Jaynes
Hits: 1295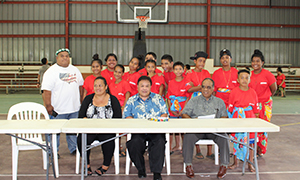 June 14, 2018
Thursday, many gathered at the PICS gymnasium for a lovely farewell lunch for the students chosen to represent Pohnpei overseas in Japan.
Every year, twelve honourable students are chosen from different schools around Pohnpei for a twelve day exchange program in Japan. Students are chosen based on their; grade point average (GPA), good behaviour and all-round student performance. The students' ages range from as young as ten and up to fourteen. They will be accompanied by their chaperones; Teacher of the Year, Kamleen Sam and Youth Coordinator, George Donre.
The exchange program is sponsored by Japan to strengthen international relationships and foster cultural exchange between Japan and the Pacific. Also attending the exchange program will be students from Chuuk, Kosrae, Yap, the Marshall Islands and Palau. Each group will perform five minute traditional dance in a celebration of their culture.
Japan has hosted this annual exchange program since 2002. It is a great opportunity and privilege for the students to be representing their state.
A crowd of proud families and friends turned up for the event. It is a great chance for Pohnpei to represent itself as a state of Micronesia in a foreign place.
Attending the showcase was the Honorable Lt. Governor Reed B.Oliver, Director of Health and social Services; Director Kapilly Capelle, Acting Chief of social services; Lululeen Santos, Student Services Specialist representing the Department of Education; Mr Dioplus Dioplus, family members and the general public.
The representatives made remarks about the honour they had for the students embarking on this journey.
After the speeches the students presented their synchronised performance for the guests with great pride.
The students looked very excited to be embarking on their journey departing this Saturday via Guam. For many this will be their first time in Japan and they are looking forward to the new cultural experience.
The twelve students travelling to Japan are; Maliza Mauricio, Sean Troy Moses, Trisha Casey Joab, Vemica Paula David, Ginero Primo, De Angelo Williams, Melessa Jonathan, Jenna Helieisar, Sidney Kilmete Jr., PJ Helgen, LeeRon Johnny Silbanuz, and Carlamae Raynor.
Good luck to all the students and have fun!