Palauan musical artists put on a concert for climate change in Pohnpei
Details

Category: News
Published: Thursday, 12 July 2018 05:23
Written by Bill Jaynes
Hits: 1276
Conservation Society of Pohnpei
June 29, 2018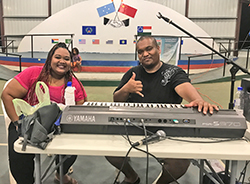 Pohnpei—On June 11th, 2018, the Conservation Society of Pohnpei (CSP) was copied in a letter to the Association of Pacific Island Legislators' (APIL) President, Honorable Robert I. Taulung from the Palau delegation to the 37th General Assembly held in Pohnpei. The intention of the letter was to inform APIL that the Palau delegation wished to take a different approach for their traditional gift exchange.
Despite the usual physical gifts that typically represent respective cultures and traditions, the Palau delegation decided to entertain the association and the host state of Pohnpei by providing two of Palau's top musicians to preserve local performance arts. The Conservation Society of Pohnpei (CSP) was fortunate to partner with the Palau delegation to host a benefit concert to help raise funds to support local climate change initiatives in the communities of Pohnpei. The concert was held at the Kolonia-China Friendship Center with a lot of fun activities and raffle prizes for the lucky winners.
CSP wishes to thank the Palau delegation and the fantastic musicians (Kelau Remelik and Fredrick Olsudong) for such unique partnership.
The benefit concert for climate change would not have been possible without the support of the following individuals, businesses and agencies: CSP Board of Directors, Pohnpei Hardware, Imelda's Shoe Store, LP Gas, Seven Stars, Ace Office Supplies, Pohnpei Water Company, Australian Embassy, FSM Development Bank, Black Sand Inc., Palm Terrace Inc., Dr. Padwick Gallen, KOA Builders (Roy & Lindsay Lowe), Panuelo Gas Station, XIX Store, Pohnpei Port Authority, Pohnpei Surf Club, FSM Telecommunications Corporation, Hideaway Hotel, Micronesia Conservation Trust (MCT), US Peace Corps, FSM Small Grants Program (SGP), Namiko Oliver, Catholic Mission, The Nature Conservancy (TNC), Kolonia Town Government, VCS., Mr. Eugene Pangelinan, The College of Micronesia-FSM, Western and Central Pacific Fisheries Commission, Dr. Brian Isaac and Family, Chris Johnson, Bill Jaynes.