US Embassy hosts 242nd celebration of United States Independence Day in Pohnpei
Details

Category: News
Published: Thursday, 12 July 2018 05:23
Written by Bill Jaynes
Hits: 1144
US Embassy in the FSM
and Bill Jaynes
The Kaselehlie Press
July 4, 2018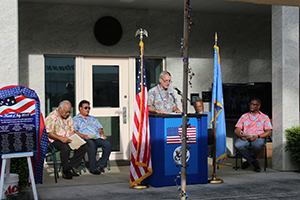 Pohnpei--Every year the U.S. Embassy in Kolonia celebrates the Independence of the United States of America. This year the Embassy celebrated with the theme of "Friends In Freedom", joined by many community leaders from the National and State Governments, American citizens, U.S. veterans and members of the Diplomatic Corps.
"242 years ago, 13 colonies came together in union to declare their independence, and eventually became the United States of America. Similarly, the islands of the FSM are stronger together; in unity of purpose, they provide security and opportunity for future generations. And our two nations will work together as Friends in Freedom to protect that future by tackling the challenges that we face in fostering sustainable economic development, combatting climate change, and enhancing maritime security, as well as the many other tests that will come our way." –Ambassador Robert Riley, US Ambassador to the FSM.
The Embassy provided hot dogs and hamburgers along with an excellent chili. They also provided American beer and wine along with lemonade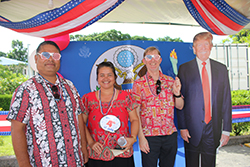 and soft drinks. Participants could get their faces painted or have their photo taken alongside a stand up cardboard likeness of US President Donald Trump. Children also participated in a chalk art contest. Near the end of the three hour event, prizes were awarded in several age categories for the winners of that contest.
Anthony Alexander, the US Embassy's Economic and Consular Officer served as the Master of Ceremonies, and Pastor Epel Ilon provided the opening prayer. Men from Youth for a Change performed the FSM and US National anthems. Following Ambassador Riley's speech, Secretary Lorin Robert of the FSM Department of Foreign Affairs was the next to speak followed by Pohnpei State Lt. Governor Reed Oliver.
US Deputy Chief of Mission, Theodore S. Pierce provided closing remarks for the evening as the sun set.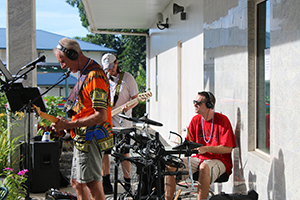 Entertainers for the event were Disc Jockey Chris Johnson and rock band "Wetter Than Seattle".
The program for the event listed a large number of volunteers as well as a list of donors who made the event possible which were Ace Office Supplies, Bank of Guam, Blue Nile, Etscheit Enterprises, Food Linx, Kolonia Town Police, Mike Veti, Pohnpei Ace Hardware, Pohnpei State Public Safety, United Airlines, and U.S. Agencies.