Micronesia Islands Forum Secretariat establishes Regional Invasive Species Coordination Office in Palau
Details

Category: News
Published: Monday, 13 August 2018 07:03
Written by Bill Jaynes
Hits: 1885
MIFS
July 11, 2018
The Micronesia Islands Forum Secretariat (MIFS), the coordination body for the Micronesia Islands Forum, is pleased to announce the hiring of the Regional Invasive Species Coordinator, Mr. James Stanford and the opening of the Regional Invasive Species Coordination Office in Koror, Palau.
Invasive Alien Species (IAS), sometimes called invasive species or pests, are detrimental species which arrive and establish in places outside of their native range. On Pacific Islands, these unwanted pests can and do cause significant impacts across all sectors and segments of society. We as islanders are all impacted by IAS which can negatively impact human health and quality of life, food security, economics, culture, natural resources including imperiled native species and our ability to address climate change.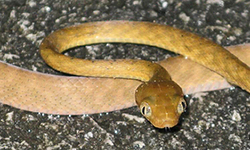 In 2005, as part of the development of the Micronesia Chief Executives Summits (MCES), the Regional Invasive Species Council (RISC) to the Chief Executives was established. The RISC is composed of up to two delegates from each of the member jurisdictions. The core RISC members include: Palau, Marshall Islands, Guam, Northern Mariana Islands, Federated States of Micronesia National and its four states Chuuk, Kosrae, Pohnpei and Yap. Our colleagues in Hawaii also participate with and support the RISC.
In 2015, after several years of extensive effort and through the support of numerous partners including the U.S. Department of Defense (DOD) which provided significant financial backing and the University of Guam which provided a regional nexus for coordination, the U.S. DOD released for the region a Regional Biosecurity Plan for Micronesia and Hawaii or the RBP. The RBP is a one of a kind document providing a regional framework for advancing and strengthening invasive species prevention and management for Micronesia and Hawaii. While the RBP incorporates hundreds of actionable items, one of the top priorities is establishment of a regional invasive species coordination office, to facilitate both local and regional efforts towards invasive species risk and impact reductions.
In 2017, the MIF was established as a successor to the MCES and in 2018 the MIFS was established in Palau. And now through the its efforts and the support of many partners, the MIFS has provided for addressing this high priority action from the RBP through the hiring of the first ever Regional Invasive Species Coordinator. The Coordinator, Mr. Stanford has worked in the Pacific Region as an invasive species and biosecurity specialist since 2004 and has a long history of supporting the jurisdictions of Micronesia and working with the RISC.
Mr. Stanford arrived in Palau less than a week ago and he is already busy with numerous tasks including getting the office up and running, opening dialogue with the MIF jurisdictions, planning for a review of the RBP and supporting the updating of member sub-sections and priorities, coordinating with a wide array of partners and potential donors and developing grant proposals to support invasive species prevent and management work within the region.
Our islands already have many IAS that are established and causing harm. And there are many more pests which have not yet established on various islands, but which are a threat and at risk of establishing. Our roles as citizens of the Pacific is to work together to prevent additional pest incursions and to implement sound management of those which are already established, ultimately reducing risk and impacts, which in turn will promote healthier ecosystems, economies and communities, improving our lives and strengthening our communities and islands.
In parting, James would like to express that establishment of a regional coordination office is an excellent step, but as important as coordination is, ultimately securing our islands from pests, termed "biosecurity", involves everyone, residents and visitors. James relayed that "we are all biosecurity officers and we all need to do our part in protecting our islands, our homes from invasive species".