17 boats participate in LP Gas and 7 Stars fishing tournament
Details

Category: Sports
Published: Monday, 13 August 2018 07:03
Written by Bill Jaynes
Hits: 1568
17 boats participate in LP Gas and 7 Stars fishing tournament
Pohnpei Fishing Club
Pohnpei—17 boats registered and participated in the LP Gas – 7 Stars fishing tournament on Saturday, September 7, 2018. The fishing conditions were difficult on the day of the tournament but several anglers still managed to coax some fish out of hiding.
We want to thank the sponsors: LP Gas/7 Stars and their related businesses, Lefty's, 7 Stars Inn and Restaurant, Hot Plate and 7 Stars Store.
The format of the tournament was big fish. There were lots of prizes including a $1,000.00 grand prize. All prizes were in cash.
Congratulations to the winners below:
Biggest Fish
1. $ 1,000 - 29lb Mahi Mahi - Steincia Hawley
2. $ 700 - 23lb Yellowfin - Stephanie Spencer
3. $ 500 - 21lb Yellowfin - Welber David
4. $ 400 - 20.5lb Yellowfin - Ivan Hedson
5. $ 300 - 19.5lb Wahoo - Walden Weilbacher
6. $ 200 - 16.5lb Barracuda - Mary Tretnoff
Lady Angler
1. $200 - 10lb Wahoo - Marcella Hawley
Junior Angler
1. $ 100 - 11lb Wahoo - Daunte Peterson
2. $ 75 - 5.5lb Barracuda - Stephanie Spencer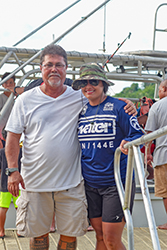 Largest of Species - $175 each
Yellowfin - 15.5lb Emerald Eperiam
Skipjack - 14.5lb Marlino Mihkel
Wahoo - 16.5lb Damian Saick
Barracuda - 12.5lb Patterson Lawrence
No one won the marlin jackpot. It is now $4,300.00 for a marlin over 450 pounds.
There was a wide distribution of prizes among the boats. Congratulations to Steincia Hawley for landing the biggest fish of the day and winning the $1,000.00 grand prize. The prizes were distributed in the way they were because each fish could only receive one prize.
We also want to thank all the people who helped out: Bill Pendergraft, Tina Albert, Kumer Panuelo's guys, and everyone on the dock.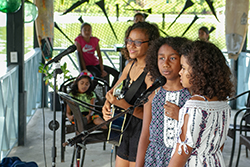 Elementary school aged girls Jasmine and Lia Daunakamakama, and Beulah Tamani sang to their own ukulele and guitar accompaniment with voices well beyond their years and a repertoire to match, stunning all who heard them at the weigh in for the tournament. During breaks, Chris Johnson also spun some great recorded music.
We also had a barbecue to support the Pohnpei Public Library.
Once again thanks to our sponsors, LP Gas and 7 Stars.
Our next tourney is the annual kid's tourney, set for July 28 and sponsored by Ace Hardware. Get your kids ready for some fishing action.