9th Micro Games in progress in Yap
Details

Category: Sports
Published: Monday, 13 August 2018 07:03
Written by Bill Jaynes
Hits: 2930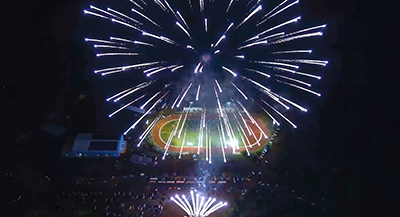 By Bill Jaynes
The Kaselehlie Press
July 20, 2018
FSM—At near the halfway point of the 2018 Micro Games in Yap, Guam is the gold medal leader with 26 medals, followed by Palau with 21, Pohnpei with nine, and Yap with 5. Guam athletes have been awarded a total of 50 medals, followed by Pohnpei with 40. Pohnpei has 20 silver medals and 11 bronze. Palau has the third highest number of medals with 36, seven of which are silver and 8 bronze. Home team Yap has won the fourth largest number of medals with 26, 8 of which are silver and 13 bronze.
Though the discovery of a highly contagious and debilitating rotavirus was made just before the games began, and logistical problems due to the arrest of the "Forever Lucky" threatened to derail the games, they seem to be running reasonably smoothly. The typically friendly residents of Yap have been reminded to "WAVE", meaning to "Welcome All Visitors Enthusiastically". People in Yap don't really need that kind of reminder but they have shown their hospitality and friendliness by opening their homes to visitors who had no place to go when the "Forever Lucky" failed to arrive as planned.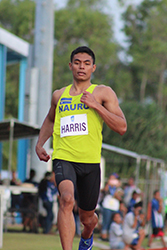 The games began with a spectacular opening ceremony with the entrance of the athletes and speeches followed by a truly stunning fireworks display, the first that many people at the games had ever seen and certainly the first in Yap.
Perhaps the darling of the games is Jonah Harris of Nauru. His is truly a Cinderella story. Before the games began Nauru announced that it was pulling out of the games because it couldn't afford to travel. But it didn't stop one of their athletes, Jonah Harris from finding his own way to Yap and dominating in every Athletics meet he participated in. By himself, Harris won two gold medals, two silver and one bronze medal.
In the Men's 100 meter race Harris won a gold medal with a time of 11.07 seconds. He jumped 6.33 meters for a gold medal in the long jump. His time of 22.22 seconds in the 200 meter race earned him a silver medal. His high jump of 1.85 meters earned him another silver medal. His only bronze was in the triple jump with a distance of 12.09 meters.
The Micro Games was supposed to have been live streamed on the Micro Games official webpage but they were never able to get that service up and running.