FSM arrests 16 Philippine nationals after Fahrenheit tugboat illegally docks in Colonia, Yap
Details

Category: News
Published: Monday, 13 August 2018 07:30
Written by Bill Jaynes
Hits: 3455
By Bill Jaynes
The Kaselehlie Press
August 2, 2018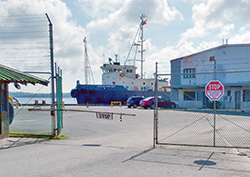 Yap, FSM—The FSM National Government has arrested 16 Philippine nationals in Colonia, Yap who arrived at that port aboard a tugboat allegedly operated by Fahrenheit Co., Ltd. They have also seized the tugboat and two cargo containers that were aboard the vessels.
They are being charged with violations of FSM's Title 18 for entering the FSM's EEZ without a permit or clearances and also for immigration violations.
A news story by Pacific Island Times says that the tugboat arrived at Yap's Port of Entry at 11:30 AM on July 30, 2018, without legal documents including Port Clearance, Maritime Declarations of Health, Deratting Certificates or Customs Clearance. That article says that an Environmental Health Services Health Quarantine officer attempted to deny the tugboat "Ocean Support" entry to the port by diverting it to the quarantine buoy near Nungoch Island. But a port agent told EHS that officials from Yap State Department of Resource and Development did not want the tugboat to be moved away from the dock.
Another vessel, the "Forever Lucky" owned by Fahrenheit Co., Ltd had been scheduled to arrive in Yap prior to the recently concluded Micronesian Games, but Philippines authorities detained the vessel and arrested its crew for a variety of violations involving documentation. The Yap government had signed an MOU with Fahrenheit to provide lodging aboard the "Forever Lucky" and to provide catering services for the games but due to the arrest in the Philippines, it never arrived.
It is unclear what the purpose of the trip to Yap by the Fahrenheit tugboat is since the games are now over. FSM law enforcement officials will be looking into that question as well.
The initial hearing date is set for August 14 at the FSM Supreme Court in Yap.
Photo by Joyce McClure
Editor's note: Due to a mechanical failure on a United Airlines flight to Guam, the Supreme Court Justice could not arrive in time for the scheduled preliminary hearing. It has been delayed until August 16.