4th Annual Ace Hardware "Kids' Tournament" held in Pohnpei
Details

Category: Sports
Published: Friday, 17 August 2018 03:36
Written by Bill Jaynes
Hits: 1496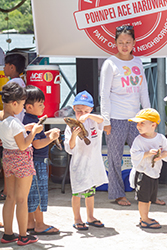 By Bill Jaynes
July 28, 2018The Kaselehlie Press
Pohnpei—Ace Hardware sponsored its 4th Annual Ace Hardware Kids' Fishing Tournament today. Several children participated in a half day of fishing inside Pohnpei's lagoon both for fun and for possible prizes.
The weigh in was held at noon at the Mangrove Bay Bar and Grill. It's always a fun event to photograph, and the children have a great time.
Ace Hardware sponsored prizes including Ace gift certificates and two new bicycles for big fish, pretty fish, and ugly fish. They also provided free hot dogs for all and gift bags for every child who participated.
Winners for the competition for ugliest and prettiest fish were decided by angler response as each fish was held up. Ethan Mamangon won the prize for prettiest fish and Ian Boylan won the prize for ugliest fish.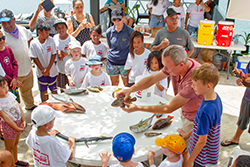 The Pohnpei Fishing Club did not provide the species of fish caught nor the prizes won in the information they gave to The Kaselehlie Press.
In the Big Fish category, Melisha Isaac came in fifth place with a 1.9 pound fish. Kristen Henry caught a 2.8 pound fish. Rylan Yinug's fish was 5.7 pounds. The top two prize winners were Noah Adams with a fish of 7.7 pounds and Connor Boylan whose fish was 8.3 pounds.
As close relatives of the sponsors, Boylan and Adams agreed to give up the bicycles their catches had earned them. They conducted a hastily arranged lottery for each of the bicycles, one for a boy and one for a girl.