FSM Supreme Court hosts Activity Preparation and Refresher Training of Trainers Workshop in Chuuk
Details

Category: News
Published: Tuesday, 04 September 2018 05:21
Written by Bill Jaynes
Hits: 2086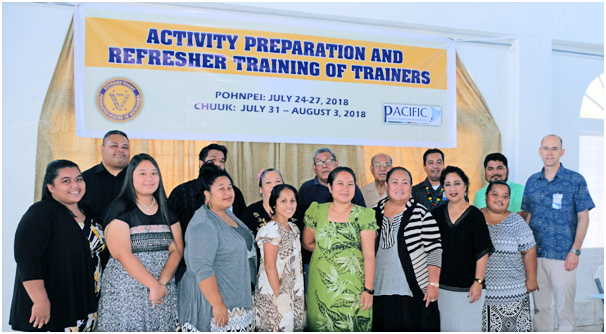 FSM Supreme Court
The National Supreme Court of FSM and the Pacific Judicial Strengthening Initiative hosted the Activity Preparation and Refresher Training-of-Trainers Workshop from 31 July-2 August, 2018, at the Kurassa Hotel Conference Room, Chuuk.
The workshop was attended by 16 participants, from the FSM Supreme Court, Chuuk State Supreme Court, Department of Justice, Office of the Attorney General, Chuuk Women's Council, Chuuk Youth Council, Pacific Youth Council, Department of Public Safety, Chuuk State Chamber of Commerce, and Pacific Resources for Education and Learning. The faculty included trainers from FSM and Australia.
Participants of the workshop received training to develop their confidence in leading, designing, delivering, monitoring and evaluating ongoing judicial and court development activities. The practical and interactive workshop also focussed on developing adult learning skills to help the FSM Supreme Court to implement its newly developed Access to Justice Plan and associated training in each State. Participants also took the opportunity to showcase traditional and cultural practices and the paying of respect in engagement activities.
Mr. Xavier Maras, Administrative Officer from Department of Public Safety, noted that: "I learned to be a champion for access to justice through the Pacific Judicial Strengthening Initiative training."
The workshop is one of the many workshops held by the Pacific Judicial Strengthening Initiative within the Pacific. The Initiative is funded by New Zealand Ministry of Foreign Affairs and Trade which has supported promoting the rule of law across the Pacific over recent years. Ms. Gina Nowell, Secretary Court Reporter FSM Supreme Court, Chuuk, added that: "We have learned ways to identify and help others in need to better access justice in Chuuk."
In Photo:
Front Row left to right: Ms. Jayleen Irons - Intern, FSM Supreme Court; Ms. Richella Dois - Intern, FSM Supreme Court; Ms. Joanne Nakamura - Assistant Chief Clerk of Court, Chuuk State Supreme Court; Ms. Achipen Martinez - Legal Assistant, Department of Justice; Ms. Lucille Sain - Pacific Youth Board Member & PREL; Ms. Atrina Mori Soichy - Secretary to Justice, FSM Supreme Court; Ms. Emeliena J. Musrasrik- Carl - Director of Court Administration, FSM Supreme Court; Ms. Gina Nowell - Secretary Court Reporter - FSM Supreme Court; Mr. Lorenz Metzner - Team Leader, PJSI
Back Row left to right: Mr. Daniel Rescue Jr - General Counsel, FSM Supreme Court; Mr. J.K. Kaminaga - Prosecutor, Office of the Attorney General-Chuuk State; Ms. Masiko Ann Sipenuk - Chief Clerk of Court, Chuuk State Supreme Court; Mr. Samuel Bisalen - Chief of Operation - Department of Public Safety, Chuuk; Mr. Isauo Kuena - Director of Court Administration - Chuuk State Supreme Court; Mr. Xavier Maras - Administrative Officer, Department of Public Safety, Chuuk; Mr. Christopher Estaquio - Executive Director, Chuuk Chamber of Commerce
Not shown: Ms. Sherry-Jane Edmond - Prosecutor, Office of the Attorney General, Chuuk State; and Mr. Mori-M Mori - President, Chuuk Youth Council