"Vocal Trash" spreads environmental message in Micronesia with high energy performances
Details

Category: News
Published: Tuesday, 04 September 2018 05:21
Written by Bill Jaynes
Hits: 2298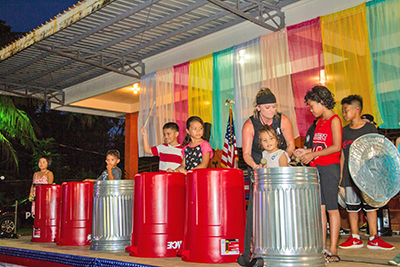 Bill Jaynes
The Kaselehlie Press
August 11, 2018
FSM—Sponsored by the US Embassy to the FSM, the unique band "Vocal Trash" blew through three states of Micronesia in a whirlwind tour spreading their environmental message where ever they went.
"Vocal Trash" is based in Ft. Worth, Texas. "Vocal Trash has been entertaining the globe with a message of peace, love and saving our planet," their Facebook page says. "Our mission is to unite the world through song and dance. We are environmental activists, that have dedicated our lives to inspiring others to find hope and joy, while saving our planet. Everything on our stage we have rescued from a landfill- from tool box guitars to a milk urn bass... up cycling at its finest. We have been on our Let Peace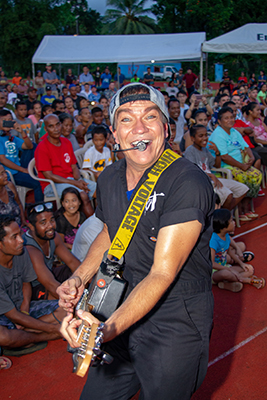 Begin Tour that has included over 5 countries and all 50 states. We have so much to share with the world, and we're truly excited and blessed to get to do what we love every day."
The band's high energy performance, even in the blazing heat and high humidity of Kosrae, Chuuk, and Pohnpei was infectious. Led by Kelsey Rae and Steve Linder, the band includes Grug Dugan, Anthony Silva, and Pablo Barragan. They were all consummate performers inspiring audience participation throughout their performances.
Banging on water bottles, trash cans, and even the stage floor; playing a guitar whose body was a Dewalt power tool case, break dancing, and even tap dancing every song, every message encouraged their audiences to actively work to preserve the earth. They likely had more impact on the problem of littering in one hour and a half performance than KPress has had in over 16 years of editorials.
They were hard not to love though no one seemed to try wherever they went.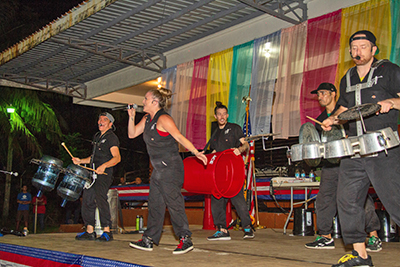 On July 31 they landed in Kosrae and spent the next four days there meeting with the Governor, doing live radio interviews, touring the island, and of course, playing their unique style of music.
The band's next stop was in Chuuk, where they arrived on August 4 and had a day off on Sunday during which they had lunch and snorkeled at the beautiful Blue Lagoon Resort. On the next day they paid a courtesy call to Governor Johnson Elimo, after which they had a community engagement with the Young Women's Empowerment Group. That evening they performed their first concert at the Chuuk High School Gymnasium. On the next day they had a community engagement with the Chuuk Youth Council and in the evening gave a concert for VIPs and Community Leaders at the Truk Stop Hotel.
After they arrived in Pohnpei on August 8 they gave a recorded interview at the Pohnpei State Radio Station. On the next day they paid a courtesy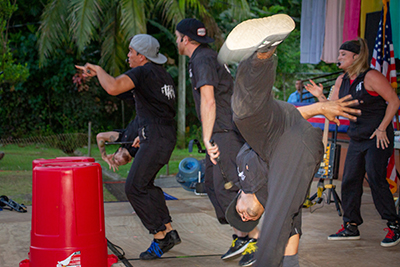 call on Governor Marcelo Peterson, followed by outreach visits to Our Lady of Mercy High School and Calvary Christian Academy. They ended their day with story hour at the Pohnpei Public Library. Friday began with an outreach visit to Pohnpei Catholic School. The evening culminated with a concert at PICS Track and Field.
Approximately 500 people attended that high energy concert, the biggest crowd they attracted during the Micronesia tour, at least for those who had specifically come to see them perform. Some local Pohnpei musicians also had the experience of performing in front of the large crowd as they performed during a break in the "Vocal Trash" set. "The Remix", "Pohnpei Rhythm", and Rohperdo James Primo's performance stood up well to the professionalism of the seasoned musicians of "Vocal Trash".
Very early on the next morning, the band got up bright and early, arriving at the PICS Track and Field at 5:00 in the morning for the Third Annual US Embassy's Color Run. Vocal Trash provided music at the field before and after the run. More than 800 people registered and turned up for the run or walk through the streets of Kolonia. The Color Run was to commemorate International Youth Day with the theme "Safe Spaces for Youth".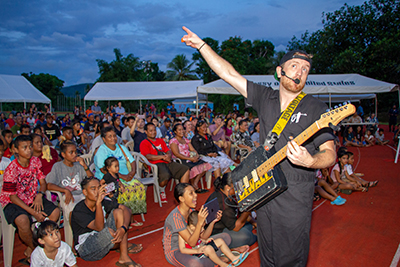 Ambassador Riley delivered opening remarks highlighting the success of Ms. Sylvia Elias and Ms. Kimberly Graham in receiving a small grant from the U.S. Department of State Young Pacific Leaders Program; they recently conducted a youth mentoring workshop in Chuuk, FSM.
"Be the positive person in life that creates a safe space for the youth" said U.S. Naval Academy Midshipman Hitoshi Phillip Oue from Pohnpei, who was the guest speaker for the event.
The members of "Vocal Trash" did get a chance to visit some of Pohnpei's sites when they visited Nan Madol and Kepirohi Falls on their last day on the island.
While they were here, the members of "Vocal Trash" also filmed a short video at the Dekehtik Landfill encouraging people to consider whether what they dump can be used before they throw it away, and demonstrated by drumming on available items there. Of course, "Vocal Trash" has never witnessed a Pohnpei New Year celebration with hordes of people beating on recycled instruments and even dragging sheets of tin down the street.