Matson and Amcres host Pohnpei Fishing Club Tournament
Details

Category: Sports
Published: Monday, 30 November -0001 00:00
Written by Bill Jaynes
Hits: 1693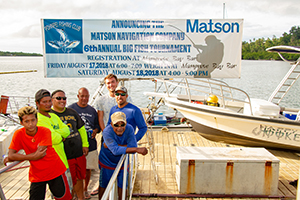 Pohnpei Fishing Club
August 18, 2018
Pohnpei—The Matson Tournament was last weekend. We had a good turnout and there was a lot of fun out on the water, even though the big fish seemed to be hiding for most of the day.
Some of our anglers were able to seek out and find some bigger fish. Matson and Amcres, our sponsors put up some great cash prizes, which were competed for very heavily.
Biggest Fish $700 - Barracuda 39.2lb - Bill Dakano on Pepe Erepani
2nd Biggest $400 - Wahoo 32.3lb - Konrad Engleberger on Bavaria II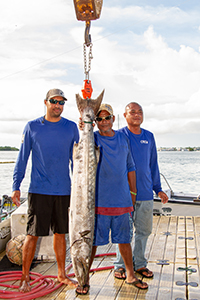 3rd Biggest $300 – Mahi Mahi 27.9lb - Mark Figueras on Pohnpei Surf Club
4th Biggest $200 - Wahoo 16.5lb - Patterson Lawrence on Ms Pakin II
Biggest Fish Species
Skip Jack $100- 12.5lb Marlino Mikel
Barracuda $100- 11.6lb Esperanza Guiuan
Mahi Mahi $100- 14.1lb Tygres Panuelo
Junior Angler $50
Denzel Lawrence- 5lb Barracuda
The awards ceremony took place after the tourney. Thanks to Mangrove Bay for supporting the weigh in. Also thank you to everyone who worked on the tournament and who helped out.
We want to thank Matson and Amcres for being big supporters for the tournament. Support them and bring in some containers.
We still have a few tournaments left this season, so get prepared.