BIG fish landed at the 11th Annual Blue Nile Fishing Tournament
Details

Category: News
Published: Sunday, 07 October 2018 12:52
Written by Bernd Riebe
Hits: 2152

Pohnpei Fishing Club
September 15, 2018
Pohnpei
Bright, sunny days don't often lend themselves to large catches of fish during fishing tournaments and it was certainly that during the 11th Annual Blue Nile Fishing Tournament.
But while there weren't large catches of fish caught on the 15 boats that registered, large fish were certainly caught. Mark Johnny, aboard the Happy Hookers caught the biggest, a 308 pound marline that he promptly donated to the Pohnpei State Hospital.
Johnny won a roundtrip ticket to Guam, a monstrous 4.5 liter bottle of Chivas Regal, and $200 cash for his 308 pound marlin.
On any other day, Kikuo Apis, Jr. Might have won first prize for big fish but today he took second prize for his 197 pound marlin. For that he won $400 cash, a smaller bottle of Chivas Regal and a $25 gift certificate.
Two huge yellowfin tunas provided Eugene Kohler with both third and fourth prizes. Eugene Kohler won $300 cash, a bottle of Chivas Regal, and a $25 gift certificate for his 96.5 pound fish. His 86 pound yellowfin won him $200 cash, a bottle of Chivas Regal and a $25 gift certificate.
Each of the special prize winners earned $100. Kikkuo Apis, Junior landed a, just short of fourth prize for biggest fish, yellowfin at 80 pounds.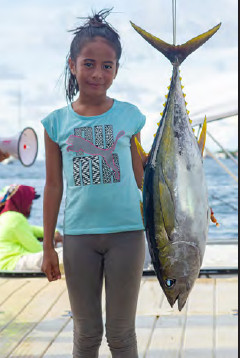 James Wichman bagged a 22 pound wahoo. Konrad Englberger always manages to land at least one barracuda.
This time he won $100 for his 18 pound specimen. Isaiah Hawley landed a 6.5 pound mahi mahi.
Ladies Anglers won prizes for their outstanding fish as well. Topping them was Bernolina Hedson with her beautiful 30.5 pound Giant Trevally. Lara Trott followed up with a 23.5 pound wahoo. Marcella Hawley had an 11 pound barracuda.
Junior anglers were out in force as well.
Stephanie Spencer landed a 20 pound yellowfin for which she was awarded $100 cash, and a $50 gift certificate.
Denzel Lawrence won $50 cash and a $50 gift certificate for his 16.5 pound barracuda.
The awards ceremony was well attended. We had a big crowd, and lots of liquids were flowing, especially the Chivas for the winners from Titan Imports.
There was a barbecue to support the library, thank you Uta and Moira.
Many thanks to everyone who helped out including Bill Pendergraft, Tina Albert, Cel Perez Pendergraft, and all the people on the dock and in the boom truck.
Thanks to Blue Nile for another great tournament