PREL takes new direction in Micronesia with all- Micronesian team for all-Micronesian solutions
Details

Category: News
Published: Thursday, 18 October 2018 13:18
Written by Bill Jaynes
Hits: 7224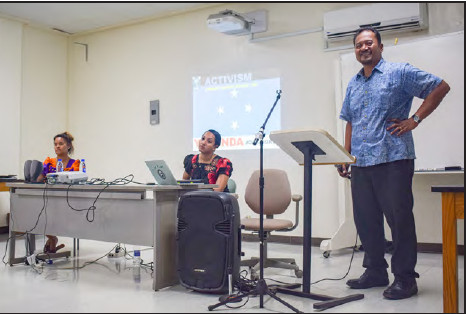 By Bill Jaynes
The Kaselehlie Press
October 10, 2018
Pohnpei—In late September, Paul Hadik, CEO of Pacific Resources for Education and Learning sent a heads up to The Kaselehlie Press that he was sending his "A-Team" to Pohnpei. While here his "A-Team" planned to meet with both the Executive and Legislative Branches of the National government. The team was to be composed only of highly skilled, educated and experienced Micronesians in their various fields.
He said that team members would include Dr. Vidalino Raatior of Chuuk, Dr. Jojo Peter of Chuuk, Shanty Asher of Kosrae who recently finished a law degree, Jasmine Mendiola of Pohnpei, Yolanda Joab Mori of Chuuk and Pohnpei, Canita Rilometo and Juan Lawrence who are both from Pohnpei.
Hadik said that the purpose of the visit was to "show the new PREL", a team of Micronesians helping Micronesians.
"We feel that for too long the FSM has hired outside consultants who are overly expensive and very unfamiliar with the region", Hadik said. "We have also heard the complaints of our college graduates refusing to return home. We think this addresses both issues. PREL is hiring qualified citizens of the RMI, FSM and Palau to do the work that is so necessary to developing the region. These young people have their degrees, work experience and are making names for themselves outside our borders. They know the culture and languages of the FSM and can bring new energy to stubborn problems."
"I just want people to know that I firmly believe there are highly qualified people from the region who should be given the opportunity to address and solve our own problems," he wrote after the team's visit was nearly complete. "I have seen too many outsiders try to do the right thing the wrong way. There exists in the FSM and RMI a large number of amazing people and I want to put them all together and see what we can do. That's the new PREL—'Micronesians helping Micronesians'.

"I have seen the millions of dollars wasted on people who come in for a few months, collect huge salaries, write lengthy reports, enjoy farewell parties filled with food and songs and 2 days after they leave no one remembers why they were even here. I see the number of qualified Micronesians here in Hawaii and Guam who don't want to go home simply because they can't find work. I think PREL can be a Xavier part 2. An organization that brings our best people together for 10-15 years addressing and solving the myriad of issues that our country faces then moving on to elected leadership positions after having worked together and proven what they can do," he wrote.
"I am just sorry I didn't think of it sooner."
Dr. Vidalino Raatior, PREL Senior Consultant; Shanty Sigrah-Asher, J.D., Education Law Specialist, and Yolanda Joab-Mori, PREL Community Resilience Specialist presented a question and answer session at the College of Micronesia FSM's MITC room at 1:00 on the topic "Micronesia Rising from Within". It was designed to discuss the new direction of PREL. The room was packed with standing room only.
Certainly everyone in attendance expected the hour long session to be good. Their expectations were exceeded.
Dr. Raatior presented the context of the concept of "Micronesia Rising from Within". He summed up the Q&A session nicely in a Facebook reply later in the day. "#MicronesiaRising in the context of our engagement at COM-FSM national campus today refers to three intertwining challenges that we tried to convey in our respective talks," he wrote,
"1) Micronesia was at one time colonized by foreign powers who dictated, defined, and destroyed our indigenous identities; now the FSM as a nation is at the crossroads between liberation and inclusion...dependent on how our young citizens RISE up to accept the challenge of national unity and prosperity;
"2) PREL's new direction under Paul Hadik to recruit and retain Micronesian-driven projects to support educational reform efforts in the FSM (as opposed to the continuing practice of outsourcing projects to foreign "experts" who may have the technical skills but lack basic knowledge of our indigenous and Micronesian unique needs;
"3) We shared our respective stories of how our commitment to Micronesian nation-building happens through climate change activism, education, and law."
Dr. Raatior told his own story about reclaiming his name. He said that missionaries baptized one of his ancestors but that those missionaries felt that his name was not "Christian enough" and so they changed that ancestor's name to "Jones", which met their standards. Later, when US Peace Corps workers were recording the names of Chuukese people they went by the Western standard of patrilineal heritage instead of Chuuk's traditional matrilineal line. They only asked what the father's last name was and so for years, Raatior's family was stuck with the name Jones until he legally changed it back.
It was just one example of outsiders not understanding Micronesia tradition or culture.
Both Shanty and Yolanda presented the message that when they began their journeys they often didn't think that they could do it but they kept pushing. They encouraged the audience, many of whom were COM students to keep pushing to achieve for their own good and the good of the nation.
During the Q&A portion of the hour long session at COM, or as Yolanda called it, the "talk story" session, questions were raised on the subject of FSM patriotism and sometimes, emotionally also of the discrimination that FSM citizens face in the US or its territories. The two subjects were linked in the questioners' minds as they would be. Some talked of having sometimes denied their country of origin in the face of discrimination.
A conversation arose about how much easier it is for a Micronesian to say to an outsider that they are a Micronesian rather than a Chuukese, or a Yapese, a Kosraean, or a Pohnpeian but when inside the FSM they are more divided. It's a patriotic issue but also a cultural one.
PREL is definitely heading in a new and right direction. In terms of Micronesia, PREL seeks to build Micronesian-driven projects for nation-building, expansion of capacity-building and networking for FSM citizens, recruitment of recent grads and young professionals, and to assist the FSM on the ground to help address FSM's social and legal issues abroad.