Pohnpei True Value fishing tournament nets good fish and great prizes
Details

Category: Sports
Published: Sunday, 23 December 2018 23:43
Written by Bill Jaynes
Hits: 6127
Pohnpei Fishing Club
October 7, 2018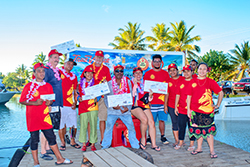 Pohnpei—The True Value tournament went off without a hitch last weekend and everyone had a great time. For once in recent history, the weather cooperated and we didn't get drenched at the weigh-in. 15 boats went out and they all brought in some nice fish.
We want to thank all of the sponsors that supported the tournament: Pohnpei True Value, San Miguel, Ambros Guam, Jonquil, Monje, Hardiflex, Pryzm, Nihon Tekkan and House of Travel.
The sponsors really supported the fishing club. Each boat registering and going out received a free case of Red Horse, a huge free cooler, hats and t-shirts. Everyone is completely geared up until the next event.
The weigh in was at the causeway in Dekehtik and a good crowd joined us for the festivities. Good food, good music, and good fun.
All of the anglers were competing heavily for the prizes, and there were good prizes on offer.
The winner was Alex Wichep with an 89 pound sailfish; a really nice fish and a top catch.
Below are the winners and the prizes:
Grand Prize:
89lb. Sailfish Alex Wichep who won a round trip ticket to Guam provide by House of Travel and two lures provided by Pryzm.
Biggest Fish: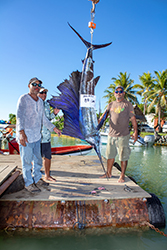 Yellowfin - 63.5lb Tommy Reiher who won a refrigerator and two lures
Wahoo - 24lb Lara Trott who was awarded a nice barbecue and two lures
Wahoo - 22.5lb Konrad Engleberger who was awarded a five piece dining set and two lures
Biggest of species each of whom won a $150 True Value Gift Certificate:
Barricuda - 13.5lb Esparanza Guiuai
Skipjack - 17.5lb Welber David
Mahi Mahi - 9lb Wilson Jano
Wahoo - 21lb Steve Finnen
Yellowfin - 14lb Welber David
Lady Angler
Wahoo- 20lb Lara Trott - $100.00 True Value Gift Certificate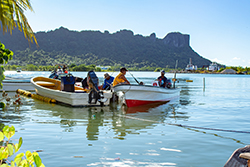 Junior Angler:
Skipjace - 16.5lb Rayken Spencer - $100.00 True Value Gift Certificate
Congratulations to all the winners. We want to encourage everyone to support the sponsors, and drink your Red Horse responsibly.
Thanks also to everyone who helped out: Bill, Tina, Praise, Cel and all the guys on the floating dock.
See you next month at the Bud tournament, November 10.