German Cemetery and Sokehs Mass Grave restored in Pohnpei
Details

Category: News
Published: Sunday, 23 December 2018 23:43
Written by Bill Jaynes
Hits: 1192
Bill Jaynes
The Kaselehlie Press
October 25, 2018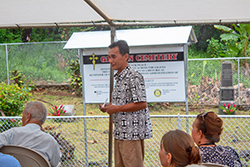 Pohnpei—As rain fell as it often does in Pohnpei, dozens of people witnessed the inauguration celebration of the rehabilitation project of the German Cemetery and Sokehs Mass Grave this afternoon. The ceremony took place at the site of the German Cemetery which is located behind the Kepinle Church.
The sign on the new fence that has been installed around the grave markers says, "Working for Peace—seeking reconciliation across the graves this cemetery site serves as a historical reminder of events during the German Administration of 1899 to 1914."
The project was funded by the Embassy of the Federal Republic of Germany in partnership with the Division of Historic Preservation, Department of Land, Pohnpei State Government and the Rotary Club of Pohnpei.
Augustine Kohler served as the Master of Ceremonies for the inauguration of the site. He said in both good and bad ways, the German Administration had an impact on Pohnpei. He reminded the audience that though he is from Sokehs where the Sokehs rebellion and subsequent executions took place, he has a German last name.
Senior Pastor Bethwel Henry, of the Kepinle Protestant Church, and one of the FSM's Founding Fathers gave the opening prayer. Acting Kolonia Town Mayor Vitus Susaia gave opening remarks.
Delihna Ehmes, History Professor at the College of Micronesia FSM, spoke on the importance of history as a lesson for the future. One of her students, Cynthia Fredrick also spoke in a quiet voice on the same topic but it was difficult to hear what she had to say.
First Secretary Thorsten Gottfried, Cultural Affairs, The Embassy of the Federated Republic of Germany, Manila also spoke to the crowd. He sensitively talked about the importance of remembering saying that what has been done cannot be undone but should always be remembered.
Before being seated, he additionally provided a brand new, powerful weed eater for general maintenance.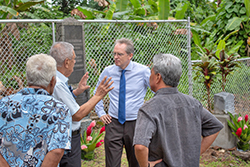 Governor Marcelo Peterson thanked the German government for support of the restoration of the two historic sites before Augustine Kohler gave his closing remarks.
The cost of the project was $5,500. More work was able to be done for that amount of money due in part to the logistics service of the Rotary Club of Pohnpei.
After the ceremony, guests walked through the cemetery to view the more than 100 year old grave sites of German citizens who died in Pohnpei during the German Administration which was from 1899 to 1914.