"Okeanos Foundation for the Sea" to place "vaka" in Pohnpei for outer islands service
Details

Category: News
Published: Sunday, 23 December 2018 23:43
Written by Bill Jaynes
Hits: 935
By Bill Jaynes
The Kaselehlie Press
October 22, 2018

Pohnpei—Managing Director of the Pohnpei operation for Okeanos Foundation for the Sea, Jack Yakana says that next month a 50 foot "Vaka" (catamaran) will arrive in Pohnpei with the intention of serving Pohnpei's outer islands. He says the vessel has 12 bunks available that accommodate seven passengers and five crew members. It is capable of additionally carrying three tons of freight. Since it only has a draft of two and half feet, it can get much closer to the shores of the outer islands.
The Okeanos Foundation for the Sea is a German philanthropic non-profit organization with a US entity that supports Pacific island states in their efforts to operate and also to build fossil-fuel free traditional sailing canoes (vakas) for their daily passenger and cargo transportation needs, culturally based education and research.
Okeanos' mission is to empower Pacific Island people to implement traditionally based sustainable sea transportation to ensure independence, cultural revival and ocean stewardship.
Yakana said that Pohnpei State has committed to $220,000 worth of pre-booked charters. He said that amount represents a savings to the state.
There are, however, limitations to what the vessel will carry. It can't carry animals or construction supplies. It will, however, be able to carry food, produce, fuel, humanitarian relief items, and other items.
The traditionally navigated vessel has one sail and a backup motor that runs on coconut fuel. It is also solar powered. Yakana said that because the vessel will visit only one island at a time, it will be able to stay at each island for as long as is needed for projects such as research operations, health projects such as vaccination programs, education, and other projects requiring stays longer than the field trip ship is able to accommodate.
The vessel is internationally certified as being seaworthy and vessels like it, including the larger 72 foot long vessel, have already logged several thousand miles in long ocean passages like one crossing from New Zealand to San Francisco.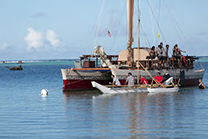 He said that Okeanos plans to establish a school in Pohnpei to train people in the art of traditional navigations practices. It also will establish a boat yard for maintenance of the vessel.
The Okeanos Vaka Motu non-profit operations are conducted by Pacific islands-led social enterprises that offer traditionally based sustainable sea transportation to meet day-to-day needs. The company already has vessels in operation in nine Pacific islands countries: Cook Islands, Fiji, New Zealand, Samoa, Tahiti, Tonga, Vanuatu, Marshall Islands, and the Commonwealth of the Northern Marianas. Okeanos says that it has already trained hundreds of previously inexperienced sailors in the art of traditional navigation.
FSM will be the 10th Pacific Island nation to receive placement of a vaka starting with Pohnpei. Yap is scheduled to receive a vaka vessel in April.
Okeanos Foundation and its social enterprises share a vision for a sustainable, fossil fuel free future built upon respect for traditional knowledge, environmental stewardship, biodiversity and holistic place-based education and development strategies.
The foundation develops, funds and implements projects that inspire and initiate positive change for people and the environment – while increasing awareness of the threats our oceans face in tandem with realistic future solutions.
Yakana said that when he learned of the mission and purpose of Okeanos Foundation for the Sea, he was so supportive of it that he left his position at Pohnpei Transportation and Infrastructure to help.