Municipal Council Association holds its third annual summit in Madolenihmw
Details

Category: Education Corner
Published: Sunday, 23 December 2018 23:43
Written by Bill Jaynes
Hits: 858
By Bill Jaynes
The Kaselehlie Press
October 20, 2018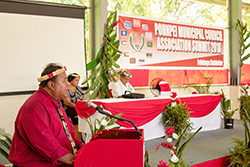 Madolenihmw, Pohnpei—Beginning on October 19, the Municipal Council Association held its third annual summit at the new gymnasium in Pohnlangas, Madolenihmw.
During the next two days, council members from each of Pohnpei's municipalities heard presentations on a variety of topics and participated in question and answer discussions.
On the first day they had presentations on the security aspect of the Compact of Free Association with the United States by FSM's Department of Foreign Affairs. Churchill Edward presented on behalf of the Department of Education, and Alexander Narruhn presented on FSM Social Security.
On the next day they heard a presentation on the economic aspect of the Compact of Free Association, presented by Palikkun Kilafwasru. After the morning break they had a panel discussion on pre and post 2023, presented by the JCRP Committee. In the afternoon, that panel discussion continued from the viewpoint of Pohnpei and National leaders.