Scientist on a mission to help farmers make Pohnpei black pepper great again
Details

Category: News
Published: Monday, 24 December 2018 00:58
Written by Bill Jaynes
Hits: 3251
By Dr. Virendra M. Verma
and Bill Jaynes
The Kaselehlie Press
November 6, 2018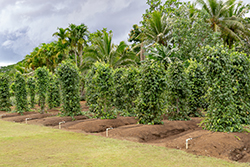 Pohnpei—In Pohnpei's not too distant past, Pohnpei black peppercorns were highly praised by gourmets for their distinctive spicy yet somewhat sweet taste. They had a high market value around the world. Only high quality pepper corns were selected for export which kept the market value high. It was sold only in high end outlets. Mistakes were made. As a result, the once high market price fell due to inferior peppercorns that were introduced into the market stream that were also sold as Pohnpei pepper. Still distinctively Pohnpeian, the inferior product no longer attracted the attention of high end buyers, a market that had been painstakingly built. The market collapsed and it is now difficult to find the wonderful pepper that is distinctly Pohnpeian in western markets, even in large cities.
Pohnpei has several active growers of Pohnpei peppercorns. Some of them, along with other stake holders gathered this morning at the Island Food Community of Pohnpei facilities to hear a lecture by Dr. Virendra M. Verma, Project Director for an integrated research, outreach and education project entitled "Black pepper micro-propagation for elite seedling production: Comparison of local practices and commercial cultivation methods". The project, conceived and proposed by Dr. Verma is approved and funded by the United States Department of Agriculture, National Institute of Food and Agriculture (USDA-NIFA) for Micronesia. The project was conceived in order to promote sustainable black pepper cultivation in the region.
"This project is of great significance as it is specifically designed to develop black pepper micro-propagation and nursery management systems to produce and ensure the year-round availability of identical, disease-free and high-quality planting material" Dr. Verma wrote. "The objectives of the project include finding alternative supports to overcome the limitations caused due to shortage of tree ferns, determining appropriate fertilizer type and doses, along with the development and publication of a commercial black pepper cultivation guide appropriate for Micronesia."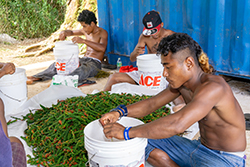 On the next day, at the Palikir Black Pepper Demonstration Plot just beyond the College of Micronesia FSM campus, he explained what he meant about the "shortage of tree ferns". Local growers have been using short tree ferns to support the pepper plants but there aren't many of them and not enough to sustain a local pepper crop. He has established 200 plants at the demonstration plot supported by tall concrete poles that were manufactured onsite. The plants are 13 feet tall. He says that height puts stress on the plants which causes them to generate more fruit than they would do if not under stress.
Indeed, the plants at the plot from which peppercorns had not yet been harvested were overflowing with healthy peppercorns. He said that he reasonably expects to be able to continuously harvest from those pepper plants for 35 years, adding that each harvest out produces the harvest of 2000 plants on another local plantation. His goal and stated goal of the research project is to help local farmers to realize the same kind of production on their own plantations.
"This project is the first of its kind not only in the Micronesian region but also in the Pacific region because it is integrating and employing multiple latest tools and technologies such as plant biotechnology, horticulture, microbiology, plant physiology and plant pathology for sustainable, climate-smart and organic commercial cultivation of black pepper," he wrote.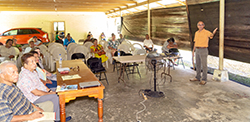 He explained at the demonstration plot that each of the plants were clones. "The project is utilizing plant biotechnological techniques such as in vitro cloning for uniform black pepper plantlet production, greenhouse acclimatization of cloned black pepper plantlets for elite, disease-free seedling production."
He said that automatic fertilizer injectors keep the fertilizer application uniform. He spoke of soil pH level maintenance, climate-smart horticultural, plant physiological and integrated pest management practices and other topics that went completely over my head. He showed me the raised beds that were there in order to ensure perfect water drainage, organic soil amendment and other techniques to provide perfect nutrition.
No matter what it all meant, I can attest that the fruit of the pepper plants was plentiful. But the proof in the pudding was when Dr. Verma rolled a slightly red berry between his fingers exposing the white peppercorn beneath and handed it to me. He told me to crunch it between my teeth until it was a fine powder. It was good. No, good isn't good enough. It was incredible. Even though we only use Pohnpei black pepper in a grinder in our house, it was still the most incredible tasting peppercorn I have ever tasted. It was hot, with a sweet after taste. It was perfect.
Dr. Verma said that the demonstration farm has been commercially sustainable during its two years of operation. He added that the current value of the crop on a wholesale basis is about $100 per pound.
"Adoption of new practices such as micro-propagation of black pepper for improved and enhanced productivity will ultimately help in reviving the local black pepper industry. Furthermore, this project will provide opportunities for income generation and profitable self-employment to the participating farmers," he said.
Tuesday's seminar was organized by the Pohnpei Agriculture Department in collaboration with the College of Micronesia-FSM and Micronesia Land-grant Program. Various participants from Department of Resources and Economic Affairs, Pohnpei Farmers Association, Pohnpei Agriculture Department, College of Micronesia-FSM, Micronesia Land-grant program, Agricultural Experiment Station, Cooperative Extension Services, Pohnpei Island Food Community, black pepper producers and black pepper processors were in attendance.