Japan provides funding for the reconstruction of the Xavier High School Library
Details

Category: News
Published: Monday, 24 December 2018 00:58
Written by Bill Jaynes
Hits: 1051
Embassy of Japan
September 25, 2018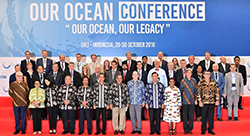 Chuuk—Under its Grant Assistance for Grassroots Human Security Projects, the Japanese government provided $80,491 to the reconstruction of the Xavier High School Library that was heavily damaged by Typhoon Maysak in 2015.
Xavier High School has long been a bastion of excellence in learning in Micronesia. Many of today's Micronesian leaders are alumni of the school.
The new library will increase confidence among students and teachers. It will also allow them to have a safe space where they can do research, study, use computers, and work on group projects.
In his address, His Excellency Ryoichi Horie, the Ambassador of Japan hoped that the newly renovated library would contribute to a better atmosphere for study at the school.
He also added that he was glad to be back in Xavier High School to hear more songs prepared by the students. The Ambassador and Madam shared a lovely song too to the Xavier High School Students.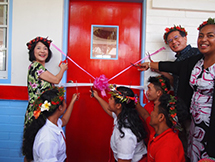 Mr. Martin K. Carl, Principal of Xavier High School expressed his sincere gratitude for the generous assistance. He said that the library would be used to educate students through research, cooperative learning, and group study and seminar meetings for students.
Mrs. Eleanor S. Mori, Board Member of Xavier High School said that she was honored to be invited to join the special ceremony and conveyed her deepest gratitude to the Ambassador and the people of Japan. Mr. Shota Shigeta, Student Body Association President and Ms. Winneta Irons, Girls' Representative also expressed their sincere appreciation to the Japan Government.
The ceremony was witnessed by the board member, teachers, staff and students of Xavier High School and an Embassy staff member.