Japan provides funds for four wheel drive ambulance for Pohnpei rural areas
Details

Category: News
Published: Monday, 24 December 2018 00:58
Written by Bill Jaynes
Hits: 1159
By Bill Jaynes
November 7, 2018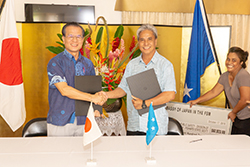 Pohnpei—Japanese Ambassador to the FSM Ryoichi Horie presented a grant in the amount of $67,823 to the Pohnpei Department of Public Safety during a ceremony at the Ambassador's residence the morning. The money will be used by the Division of Fire and Emergency Service to purchase a new four wheel drive ambulance for Pohnpei's rural areas.
During his remarks, Governor Marcelo Peterson thanked the government of Japan for its generous donation through the Grass Roots Program of the Japanese Embassy. He said that now that Pohnpei has trained medical responders, Pohnpei is trying to acquire more ambulances to better serve the people of Pohnpei. This one, he said, will likely be stationed in Madolenihmw so that if an medical emergency call comes in from Kitti or Madolenihmw it will be able to more quickly reach the patient in need of medical attention than if it was stationed in Kolonia. He said that the four wheel drive of the vehicle would be helpful on difficult to traverse roads.
Patrick Carl, the Chief of the Division of Fire and Emergency Service said that the supplier will be able to get the new vehicle within two months of receipt of the purchase order which the state can now issue with the Japan's donation.
Director of the Department of Public Safety, Benito Cantero also thanked the Embassy of Japan and its staff members for the donation. He said that he was pleasantly surprised at how quickly the grant came together between the time of application and its being granted.
Ambassador Horie said that the donation represented the strong relationship between the people of Pohnpei and Japan. He said that he is proud to be able to facilitate the donation of the vessel for the protection of Pohnpei's people.
After the formalities were concluded Governor Peterson asked Chief Carl what yet needs to be done in order to establish the upcoming 911 emergency service line. Carl said that they are awaiting the installation of an antenna which might be done by as early as next week. He said that personnel have been trained on the system and all that needs to happen now is to have the antenna installed. When that is done they can begin to implement it.
Governor Peterson said that one of the beauties of the 911 system is that anyone who needs it can use it and easily remember the number, even children who may be faced with an emergency. He said that announcement would be made when the system is up and ready for use.
Japan's money will be used to pay for the ambulance itself and for wharfage.