PMA Food Program funds emergency beacons for Yap outer island fishermen
Details

Category: News
Published: Monday, 24 December 2018 01:32
Written by Bill Jaynes
Hits: 992
By Joyce McClure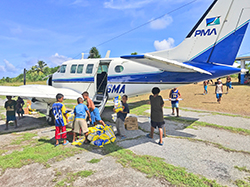 Each year, the U.S. spends millions of dollars on Search and Rescue (SAR) missions throughout Micronesia. They have advised the governments of these islands to improve their small craft regulations to include some forms of emergency equipment such as a large bright colored tarp, radar reflectors, or ideally carry an emergency beacon called an EPIRB or PLB.
Two years ago, Pacific Mission Aviation (PMA) was involved in a successful Sea Search operation where they found a skiff which had been adrift for 36 hours. They were able to relay the coordinates to the Coast Guard who later came and picked up the four men from Fais Island.
That event started a quest to somehow help these islands have access to a Personal Locator Beacon (PLB) which they could take with them on voyages to other islands or when they went out fishing. Each PLB costs about $290.00, so it would require some kind of grant to acquire enough PLB's for all the 18 inhabited Islands in Yap State alone.
Yap State used to have a vessel that made quarterly trips through the islands to distribute food, people and supplies. But due to mechanical problems and ultimately a decision to send that ship to drydock, Yap has not had a reliable means of supporting their islands for over two years. Occasionally the National ship will make a trip through the islands, but it is not enough to meet the demand.
At the end of 2017, in an effort to meet the needs of the people, PMA began a feeding program to supply the islands with rice. Whenever there is a flight to Ulithi and Fais that has any space available, PMA will fill the remaining space with sacks of 20 lb Rice. PMA donates the freight costs so that the people on the receiving end can purchase the rice for essentially the same price as they would buy it on the mainland. Here's how it works. The Rice is purchased in bulk quantities of 100 bags at a time and receives a 10% discount which brings the price down to around $8.00 per bag. The Rice is then sold at $10.00 and for every sack sold, $2.00 goes towards funding the PLB project. Since January 2018, these $2.00 per sack have raised enough to purchase 18 PLB's. This is enough for each inhabited island in Yap State to get one PLB each.
PMA has also been able to purchase a small Pelican case to keep each PLB dry and protected. Each PLB has been registered online and will be assigned to responsible individual who has access to a HF radio. The requirement for a fisherman to take the PLB with him will be to only sign his name on a check-out sheet.
In the event of an actual emergency, the beacon will send its location via satellite to the SAR authorities who will contact us and verify that this is an actual emergency. As soon as it is confirmed, the exact coordinates of the boat will be given and Search and Rescue can commence with less time spent on searching.
We are excited to get these beacons distributed to the islands and will continue to purchase more so that the islands can have more than one beacon.