POPA employee completed the INTOSAI Development Initiative (IDI) Young Leadership Program
Details

Category: News
Published: Monday, 24 December 2018 01:32
Written by Bill Jaynes
Hits: 1628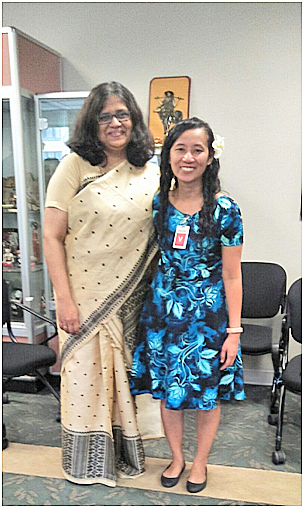 Pohnpei Office of the Public Auditor (POPA) Senior Auditor has successfully completed the SAI Young Leaders Program which was held in Washington DC on October 15 to October 26, 2018. This competitive program was launched by International Organization of Supreme Audit Institutions (INTOSAI) in 2017 with the objective of changing young leaders contributing to positive change in the Supreme Audit Institutions (SAI). SAI Leadership is widely recognized in the INTOSAI community as the most effective moving force, which transforms an SAI. Supporting SAIs in sustainably enhancing capacities and performance is impossible without SAI leadership driving positive change. Recognizing the significance of leadership development, the IDI launched the SAI YOUNG LEADERS Program, as a part of its portfolio programs. The program aims to nurture young leaders in SAIs, to enable their own growth and contribute to development of their SAIs.
INTOSAI operates as an umbrella organization for the external government audit community. For more than 50 years it has provided an institutionalized framework for supreme audit institutions to promote development and transfer of knowledge, improve government auditing worldwide and enhance professional capacities, standing and influence of member SAIs in their respective countries. INTOSAI is an autonomous, independent and non-political organization. It is a non-governmental organization with special consultative status with the Economic and Social Council (ECOSOC) of the United Nations.
INTOSAI was founded in 1953 at the initiative of Emilio Fernandez Camus, then President of the SAI of Cuba. At that time, 34 SAIs met for the 1st INTOSAI Congress in Cuba. At present INTOSAI has 194 Full Members, 5 Associate Members and 1 Affiliate Member. The INTOSAI Development Initiative (IDI) supports the enhancement of audit capacities of INTOSAI members. Activities include the long-term regional training programs, regional satellite and partnership programs as well as IDI training seminars and workshops in key areas of government auditing. IDI was established at the 1986 Sydney Congress.
91 SAIs in the INTOSAI community have indicated interest in the SAI Young Leaders (SYL) Program. The IDI sent an invitation to all SAIs that have indicated an interest to apply for the program in September 2017. IDI received 70 completed applications in October 2017. Applications received were screened using three broad parameters – the quality and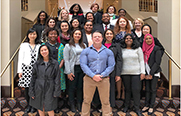 potential of the change strategy proposal, the potential of the SYL to meet the program's requirements, SAI commitment and assurance from Head of SAI. Based on the screening, 40 SAI YOUNG LEADERS including their respective change strategy proposals were selected for the second screening workshop which was held Norway on November 20-24, 2017. Cherry (although one of the 40 SYL selected) was not able to go to Norway because of visa requirement however, IDI contacted her and arranged for a panel interview via skype and gave her a chance to present her change strategy proposal which is Communication Strategy for POPA. After the second screening, 25 final young leader applicants including Cherry were invited to attend an International interaction workshop in Chennai, India on March 19-29, 2018. The other 24 SYLs came from Argentina, Bhutan, Botswana, China, Cook Islands, Costa Rica, Ecuador, Estonia, Fiji, Finland, India, Liberia, Maldives, Malta, Samoa, South Africa, Thailand, Tonga and Zambia.
The SYLs and their respective coaches attended the International Interaction in Chennai, India. The workshop consists of theory, experience sharing and application sessions on various topics included in the four clusters – Discover Self, Discover Universe, Grow People and Create Value. SYLs were taught about being a leader; being aware of oneself not only through strength but also recognizing and improving on one's weaknesses and limitations. Aside from self-awareness, SYLs also learned the importance of being socially aware, so as a leader SYL would know how to deal with conflict, how to influence others, how to collaborate and most especially how to empower others. The workshop also covered coaching skills and different kinds of learning styles all of which would support the SYLs.
The Group with IDI
Of the 25 SYLs accepted to the program, 20 of them were successfully achieve the agreed change strategy project milestones and were invited to the second two-week workshop in Washington DC from October 15-26, 2018. In this workshop, SYLs learned about communicating effectively, influencing skills, managing conflict, negotiation skills creative thinking and further sessions on the four clusters (Discover Self, Discover Universe, Grow People and Create Value). SYLs also had the opportunity to visit such international organizations like United Nations Headquarter in New York and World Bank in Washington DC, to interact with international stakeholders on emerging issues. The second week of the workshop was hosted by the US Government Accountability Office (GAO). The SAI Young Leaders were given 30 minutes to present the milestones of their change strategies and their journey as SYL. Ms. Somcio's strategy proposal for POPA is Communication strategy with the objective of promoting the value and benefits of Public Auditor's Office to different stakeholders especially to Pohnpei citizens. One of the positive impact of POPA's communication strategy is that there is increased number of audit requests and queries to our office. In our Annual Audit Plan for fiscal year 2019, seven (7) of the eight (8) audits scheduled came from different stakeholder's request such as Legislature, Director of Treasury and from the Attorney General's Office. Compliance Investigation Division also received request from Youth Sector to do presentation on Fraud Awareness for young people.
Ms. Cherry Lyn (or Cheng to her friends) encourages Young Leaders from SAI of the Federated of Micronesia to apply and be a part of the next batch of SAI Young Leaders.
For more information about Pohnpei Office of the Public Auditor (POPA) please visit http://opapni.fm/