Pohnpei Rotary Club raises over $12,000 for scholarship and other activities at Annual Quiz Night
Details

Category: News
Published: Monday, 24 December 2018 01:32
Written by Bill Jaynes
Hits: 1306
Pohnpei Rotary Club
November 17, 2018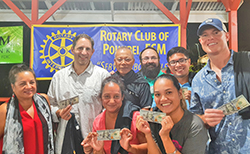 Pohnpei—The Pohnpei Rotary Club hosted its annual Quiz Night tonight at Cupid's Restaurant. By all accounts, it was a rousing success.
Six players at each of 22 tables competed for cash and prizes by trying to answer basically irrelevant and potentially pointless trivia questions. There was a lot of yelling and joking, and were it not for the efforts of the brave and selfless moderator the night might've descended into total anarchy. You are probably sorry now if you managed to miss it.
The top prize was $100 per person at the winning table provided by the Bank of Guam. This year the winners were Nathan Bonnice, Mellyann Mallarme, McClaine Gilmete, William Jon Dean, Mark Bush and John Fazio. Congratulations to those trivia buffs.
In addition to the trivia competition there were raffles including a 50/50 raffle and a raffle for lots of goodies donated by our sponsors. There were also a few items for auction provided by donors that could be bid on and won.
A highlight of the evening was the drawing for the raffle of two round trip United Airlines tickets to locations in Micronesia and Asia. That is a big win for a $5.00 ticket. There were 500 tickets sold. United pulled out the lucky tickets at quiz night and the lucky winners were Bernolina Hedson and Albert Carlot. Thank you, United Airlines, for the sponsorship.
We want to thank all those in attendance for their generous support to all of the activities going on. For the Rotary Club this is our biggest fundraiser of the year. The Rotary Club in conjunction with Vital Petroleum awarded $21,600.00 in college scholarships for this school year, and Rotary also has a separate scholarship program where it awarded $12,000.00 in college scholarships this year. These scholarship programs are ongoing and a large portion of the money raised will go to those scholarship programs.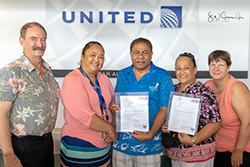 We are also involved in many public service projects. Besides support for the Scripps National Spelling Bee, the Ipwetik Community Center in Madolenihmw, and the Pohnpei Swim Club; we sent sports equipment to Pingelap, provided portable Echocardiograph units to Pohnpei State to screen children for Rheumatic Heart Disease (RHD), helped to organize the visit of Taiko Japanese Drummers from Sendai, Japan, sponsored a water project at the Chuuk Women's Council building and a solar power project at Sapwalap Elementary School; we also support Rotary International's global effort to eradicate Polio. All in all we want to let people know the money you generously contribute is going to be well spent.
We cannot do this type of fundraiser without support from a lot of sponsors. We want to thank all of our sponsors who made this evening a success listed in no particular order of importance. All the donors are extremely important. Thank you to one and all!
United Airlines
Petrocorp/VITAL
Bank of Guam
His Excellency Peter Christian
In memory of Alison MacConnell
Ace Office Supply
Genesis
Seven Star
Ambros Inc./Shimbros, Inc./Budweiser
FSM Postmaster Ginger Mida
Western and Central Pacific Fisheries Commission
G & J Car Rental
MRAG
Drops of Life
LP Gas
Pohnpei Surf Club
Joe and Ichiko Vitt
The Kaselehlie Press
Moylan's Insurance
Caroline Fisheries Corporation
Pohnpei Napa Auto Parts
Good News Press
CTSI
Ace Hardware
MRA
BMC
Bank of FSM (BFSM)
MERIP
Pohnpei Hardware
Palm Terrace
Joy Hotel & Restaurant
FSM Development Bank
Ivory Nut House
Hon. George Fraser
COM-FSM
Island Palms Hotel
Mellyann Mallarme
FSM Telecommunications Corporation
MATSON
Village Travel
Pohnpei Swim Club/NOC
Cupids
Dateline
We also want to thank the staff and management at Cupids for all their help in putting the event on, along with all the members of Rotary Club who put in extra effort beyond the call of duty to make this evening a success. All told the raffle, donations and quiz night itself raised over $12,000.00. It was a great evening and a beneficial one also. Thank you to everyone.
Please purchase Rotary Club 2019 calendars, the proceeds of which also go towards our community projects.