UNFPA consultant educates health practitioners and community groups on diagnosis and treatment of victims of sexual violence
Details

Category: News
Published: Monday, 24 December 2018 01:32
Written by Bill Jaynes
Hits: 1115
By Bill Jaynes
The Kaselehlie Press
November 14, 2018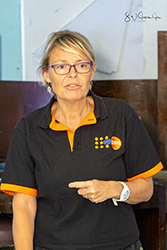 FSM—This afternoon, Dr. Carina Hickling, a sexual health and reproduction specialist and consultant with UNFPA concluded an FSM wide series of workshops on clinical management for victims of sexual violence. According to the FSM Family Health and Safety Study of 2014, at least one in three women in the Federated States of Micronesia has experienced violence by a partner at least once in their life.
The workshop was primarily intended for health practitioners but was also expanded to include community non-government organizations, women's groups, church organizations and law enforcement agencies. Dr. Hickling conducted the workshop, which was designed to help the states to organize clinical management responses to sexual violence, in each of the four states. The workshops were organized by the state health departments, the FSM Department of Health and Social Affairs, and the United Nations Population Fund (UNFPA).
Dr. Hickling said that as the seminars progress in each of the states, health practitioners in particular began to realize that they may have missed signs of sexual violence that present themselves in patients they have seen. She said that in each of the states, most health practitioners came to the conclusion that the problem was bigger than they had thought.
The problem of sexual violence is already thought to affect a large portion of the population. The Family Health and Safety Study of 2014 says that as many as 40% of females between the ages of 15 and 24 have experienced sexual violence. Many victims do not come in for treatment or report instances of sexual violence for many reasons including social stigma and a feeling that reporting the crime wouldn't accomplish anything.
She stressed that victims of sexual violence should come in for treatment as soon as possible. She said that in far too many cases, victims come in after it is already too late to provide treatment. For instance, emergency contraception medicines are only effective up to five days after a sexual attack in order to prevent pregnancy.
The workshop covered topics such as recognizing symptoms of victims of sexual violence and how to speak to a victim about what they may have experienced in non-judgmental and non-threatening ways. She covered topics of proper documentation for law enforcement referral and aspects of physical examination to treat and to preserve evidence of sexual violence.
She also covered important related matters such as sexually transmitted infections, HIV, and pregnancy.
The workshops themselves were on the first step toward developing an effective strategy to deal with victims of sexual violence. She said that systems of social support, legal processes, and interactions from civil societies all need to be formed. She said that governments, through working groups should establish standard operating procedures to help victims of sexual violence all the way from prevention to after care and law enforcement matters.
She was encouraged that in each state, individual participants nominated themselves to set up sexual violence task forces with peer accountability in order to begin to develop effective strategies.
As UNFPA Global's roving sexual and reproductive health consultant, Dr. Hickling provides technical assistance and oversight to UNFPA's Humanitarian SRH programs in close collaboration with country and sector leads. She ensures quality of the program through compliance and adherence to UNFPA, Donor and National policies, procedures and guidelines, IAWG and the Sphere standards. She supports program teams, provides supervision, direction, coaching, mentoring and training based on capacity needs of staff. She develops UNFPA's SRH programming models, tools and guidelines. She provides virtual SRHR, coaching and mentoring to country office staff. She supports and strengthens data collection forms and reporting such as HRP, MISP indicators, HMIS, and assesses staff capacity in technical and operational capacity to deliver quality SRH and GBV programs, providing formal and informal capacity building.
Her missions today have included The Solomon Islands, Palestine including West Bank and the Gaza Strip, Federated States of Micronesia: Kosrae, Chuuk, Yap, Pohnpei. At the time of this writing she was on another mission in Budapest, Hungary.