President Christian receives credentials from His Excellency Giorgio Guglielmino, Ambassador of the Italian Republic
Details

Category: News
Published: Tuesday, 25 December 2018 23:00
Written by Bill Jaynes
Hits: 1902
FSM Information Services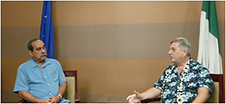 PALIKIR, Pohnpei— On November 22nd, 2018, His Excellency President Peter M. Christian received credentials from His Excellency Giorgio Guglielmino, Ambassador of the Italian Republic commonly referred to as Italy.
Ambassador Guglielmino advised President Christian that the Italian Embassy in Manila, Philippines, will also be the liaison for the Republic of the Marshall Islands, Republic of Palau, and the Federated States of Micronesia. "We know you'd like to develop tourism," the Ambassador said, "And we'd…like to direct Italians to the FSM…Italian tourists are keen to discover new places."
President Christian advised his appreciation of Italy's "continued support for the Paris Agreement…whatever we can do to continue momentum…would be most useful to us." The President further emphasized the FSM's appreciation for Italy taking in refugees, though also noted that organizations supporting refugees "must emphasize respect to the culture."
"Italy has always been a very welcoming place," Ambassador Guglielmino said.
Located primarily on a peninsula in Southern Europe, Italy has 54 World Heritage Sites—the most in the world—and is the eighth largest economy in the world as measured by Gross Domestic Product (GDP). To learn more about Italy and its relationship with the FSM, visit the Department of Foreign Affairs Website here: https://dfa.gov.fm/