Fifth Annual White Ribbon Walkabout to eliminate violence against women in Chuuk and Pohnpei
Details

Category: News
Published: Tuesday, 25 December 2018 23:00
Written by Bill Jaynes
Hits: 1219
By Bill Jaynes
The Kaselehlie Press
25 November 2018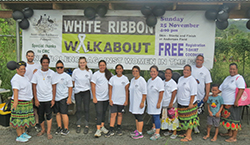 FSM—This evening the Australian Embassy to the FSM hosted its fifth annual White Ribbon Walkabout to eliminate violence against women. This year the Embassy also hosted a White Ribbon Walkabout in Chuuk.
The Embassy has been hosting this event to raise awareness about domestic violence in the FSM, and to stand up against this violence in our homes.
Ambassador George Fraser addressed the crowd in Pohnpei before kicking off the walk. Second Secretary and Consul, Katherine Grant gave the same speech in Chuuk at their Walkabout. The text of the speeches follows:
Domestic violence means inside the home. Overwhelmingly, the perpetrators of violence against women and girls are men within the family. We are not talking about strangers on the street.
Violence against women and girls is pervasive and persistent throughout the world and is a gross violation of human rights. It has a profound and devastating impact on victims and it constrains economic growth as well as social development.
In 2014, Australia funded a FSM Family Health and Safety Study. The study looked into the prevalence and types of violence against women, including sexual assault across all four states in the FSM. The study looked at intimate partner violence, meaning violence from a husband or boyfriend against their partner.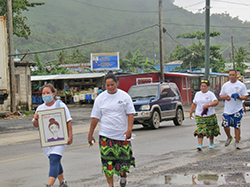 The results of the survey are concerning because they show a high level of violence against women, and this demands urgent action.
In the FSM, one in three ever-partnered women has experienced physical and/or sexual violence by a partner at least once in their life.
But the situation is much worse in Kosrae and Chuuk. Notably, many experienced this violence within the last 12 months. Women aged from 15 to 24 were the most likely to have experienced violence.
Looking at these statistics, this means that 1 in 3 of our daughters, sisters, and nieces are likely to experience domestic violence in their lives, many before they are 24 years old.
Violence against women is unacceptable, anywhere, anytime. Eliminating it is a priority of the Australian Government and a key part of our overseas aid program.
This is why Australia is proud to be funding programs to help end domestic violence and provide better counseling services to women and girls who are suffering from it in the FSM.

We also have a Domestic Violence Adviser working across the FSM to implement a National Gender Policy. This work is part of our Pacific Women Shaping Pacific Development Program.
Under the program, Australia was active in supporting introduction of the Domestic Violence Act which was passed in Pohnpei in November 2017. Kosrae also passed legislation in 2014.
Now, Chuuk legislators are also considering a domestic violence Bill.
Without these laws, women and girls have little protection. But in Pohnpei, they now have opportunity to use this legislation for protection of families from Domestic Violence.
I encourage you to use this law, if you or someone you know needs help, to break free from the cycle of domestic violence. Report it to the police and seek help. The laws are there right now for your protection.
Violence takes multiple forms such as physical, sexual, emotional and economic abuse. Violence may occur in the home or outside of the home, and includes domestic and family violence, sexual assault, sexual exploitation and trafficking.
Gender inequality is the root cause of violence against women. We must work with all members of our society, including men and boys, to transform gendered social norms, attitudes and behaviors to eliminate men's violence against women.
On behalf of the Australian Government, with assistance from the National Olympic Committee and Pohnpei Athletics, I want to thank you all very much for participating in this important event, to stand up against violence in our homes.
Together, let us end violence against women and girls in Pohnpei and the FSM.