World Bank Vice President for Asia and Pacific Region visits the North Pacific
Details

Category: News
Published: Tuesday, 25 December 2018 23:00
Written by Bill Jaynes
Hits: 1531
By Bill Jaynes
The Kaselehlie Press
December 2, 2018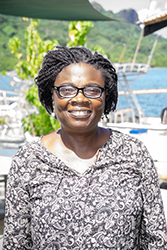 FSM—Victoria Kwakwa, World Bank Vice President for the East Asia and Pacific region was in Pohnpei this week to make connection with contacts here and to get a feel for the environment. In addition to meeting with the nations' top leaders she also met with NORMA staff regarding a fisheries project. Throughout her trip she also discussed a sustainable energy project the World Bank has been supporting in the FSM.
After Pohnpei she continued on to Chuuk where she was to meet with the Chuuk Women's Council in addition to meeting with government leaders there.
She took 30 minutes from her schedule to speak with The Kaselehlie Press regarding the purpose for her trip, her first to the North Pacific. She said that one of the main purposes for her trip was to signal the bank's very strong interest in the countries in the North Pacific as part of a broader, stepped up engagement in the Pacific.
"Now this is also in the context of increasing global focus in the development community on the situation of small island developing states (SIDS)," she said. "Because we recognize that they face unique constraints and unique challenges that make their development a bit more hard to achieve. So this trip here is to signal this stepped up engagement in the North Pacific, increased attention to FSM and a desire to continue to grow the partnership, to deepen it to ensure that it works for FSM."
We had earlier indicated our desire to talk about the progress of the fiber optic project.
"One of the key challenges countries of the Pacific face is their remoteness," she said. "There's been some analysis that tries to quantify that remoteness by determining how far those countries are from major markets that would provide trade and growth and economic opportunities."
She said that on average, the SIDS in the Caribbean region average a distance from major markets of about 8000 km. The most remote islands in the Indian Ocean average a distance of about 10,000 km. Pacific countries average a distance from a major market of about 12,000 km. That is complicated in some Pacific SIDS because like the FSM, their countries are not just one island but several. Land masses are small but they are spread over a large area. "So you have to find ways to connect the islands within themselves and also with the world at large," she said.
While the infrastructure to make the connections is important, support for policy and institutional requirements in order to achieve the kind of connectivity is equally important so the World Bank has been working with the FSM with that in mind.
It's been a little slow because we had to work through institutional reforms but those are happening. Without the support and institutional reforms, the infrastructure wouldn't be quite enough.
FSM Telecom (FSMTC) is mandated by law to operate in all four states which means that all four states get service. FSMTC previously operated as a monopoly by law, but atypically for monopolies had one of the lowest prices for service in the Pacific regardless of the local perception. But the Pohnpei market has helped to prop up the other monetarily smaller markets.
We expressed our previously stated concern that if an outside competitor were to come in and "cherry pick" just the biggest Pohnpei market and drives FSMTC out of the market for whatever reason, would they still be able to be economically viable in the smaller markets that perhaps outside providers might not be motivated to serve? If they could not the end result could be plenty of infrastructure but no provider due to purely economic factors.
"These needs will need to be discussed. The objective as we work with the government would not be to exclude but to expand access, improve service quality, and improve affordability. Certainly we wouldn't want a result where due to reforms other states are cut off. So certainly this is an issue that needs to be looked at," she said.
She said there are ways to avoid it through the regulatory framework and how competitors can enter the market and that is part of what the World Bank is working with the FSM to accomplish. "Yes, it could happen, it's a risk but it's a risk that could be mitigated and that would not be the outcome that we would want to see," she said. "We want the best for the FSM. It's something that we need to work together on to advance this agenda."
She said that World Bank is dialoguing with the FSM in an effort to truly understand what the specificities of the FSM are. "We don't have any pre-conceived ideas. We do have experience working in other countries and we have seen what has worked but we'll have to continue to check it as we go along and make sure we're getting the outcomes we desire," she said. "We are looking out for these things."
She said that the World Bank commissioned a report that many people have not seen called "The Pacific Possible" which she promised to get us access to. She said that the report looked at economic entry points for SIDS with limited access to markets. The report was designed to find those limited entry points. For some SIDS it could be tourism. It could be migration or label mobility schemes. The report looks at what countries need to do in order to make good strategic planning.
She said that Pohnpei Governor Peterson said that Pohnpei is about to update the five year strategic development plan. She said the report would be a good tool to help with that and promised to send a copy to the newspaper.
"What we found out in the study was, 'yes, these countries are growing more slowly than developing countries,' you know, the small island developing states. But if there's a more deliberate effort to tap these economic opportunities, the policy frameworks and the investments that are needed, the GDP growth rate could improve quite a bit," she said.
I think it's important that the World Bank position be understood. "Basically, the way that we see it, the infrastructure agenda is huge in these countries. The Asian Development Bank (ADB) estimates that in the Pacific you need about $3 billion to close the gap to have adequate, climate resilient infrastructure in the region. We need all the resources we can get, being used in the most efficient way in a well-planned project; well prepared and well implemented."
"So with this agenda, we believe that Chinese investment could be part of the solution, or investments funded by China," she said. "But we all need to work together to help the countries plan these investments so that they're the right investments. They're designed right, including with climate resilience in mind and they're designed with good global standards for procurement, for social and environmental safeguards. So we're ready to work with the countries with this in mind."