Japan Embassy in the FSM hosts last official celebration of Emperor Akahito's birthday
Details

Category: News
Published: Tuesday, 25 December 2018 23:00
Written by Bill Jaynes
Hits: 1469
By Bill Jaynes
The Kaselehlie Press
November 29, 2018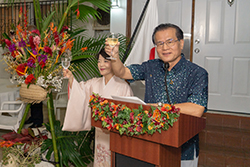 Pohnpei—Japan's Ambassador Ryoichi Horie and his wife Yuko hosted a reception at their home in Nanpohnmal in celebration of Japan's National Day, a day to celebrate the birthday of Emperor Akahito who will be 85 on December 23. During his speech, Ambassador Horie reminded the dignitaries and invited guests that the celebration would be the last time to celebrate the birthday of Emperor Akahito as he will be abdicating on April 30 of next year and His Imperial Highness, the Crown Prince Naruhito will ascend to the throne on the following day.
The reception was beautifully decorated by highly talented Madam Yuko Horie in "Ikebana style" with flowers provided by Ichiko Vitt and Ringlen Wolphagen.
The national day celebration in the FSM was more than a celebration of the birthday of the Emperor, it was also a celebration of 30 years of diplomatic relations between the FSM and Japan.
During his speech, Ambassador Horie spoke of the many accomplishments and agreements between the FSM and Japan and also of Japan's contributions to the FSM including the more than 100 Japanese companies with captive insurance and other companies who pay corporate tax in the FSM. He spoke of successful cultural people to people exchanges between the two countries as well as demonstrations of Japanese culture through visits of Japanese performers to the FSM. He spoke of the educational exchanges and mentioned that FSM President Christian, who was not in attendance at the reception, received an honorary Doctorate from Osaka Gakuin University.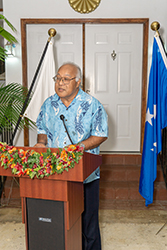 "For the last three decades, our two countries have enjoyed very close and friendly relationships, sharing the common values such as democracy, fundamental freedom and rule of law. We have deepened and expanded our cooperative relations in various fields such as investment, trade, economic cooperation, culture, academic exchange and tourism. The latest edition of Kaselehlie Press is carrying the messages from the President of the FSM and the Prime Minister of Japan together with some photos," he said.
Secretary for Foreign Affairs Lorin Robert represented the FSM at the reception and spoke of 30 years of friendship between the countries and thanked Japan for its many contributions to the FSM.
After the formalities were completed, the guests were treated to a truly remarkable dinner prepared by the Ambassadors chef.
The Ambassadors of the Diplomatic Corps to the FSM attended the reception as did many FSM and Pohnpei government and community leaders.