COM-FSM club holds the first ever LGBTQ+ Pride Walk in Pohnpei
Details

Category: News
Published: Tuesday, 25 December 2018 23:00
Written by Bill Jaynes
Hits: 1828
By Bill Jaynes
The Kaselehlie Press
December 4, 2018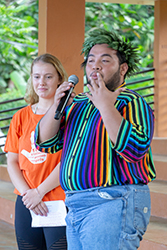 Pohnpei—On Saturday, December 1, the officially sanctioned LGBTQ+ club of the College of Micronesia FSM held a Pride Walk at the Pohnpei Islands Central School track. It was the first of its kind in the FSM.
LGBTQ+ stands for Lesbian, Gay, Bisexual, Transgender, Queer and other identifications.
People from all walks of life participated in the walk. The crowd was small but even that small crowd exceeded the group's expectations for the event. "There wasn't a single drop of negativity there," said Grace Corcoran, a COM-FSM student from Australia who was one of the organizers of the event. "We are really grateful to all of the people who did come to show their support for the human rights of people who identify differently."
The club started during the current semester with help from a COM instructor who identifies as gay. It was initially intended to be a small support group for people on campus who came together to support each other in their struggles for self-acceptance in a world where many are afraid of them. Members of the club said that COM-FSM President Joseph Daisy approached them and asked them if they'd like to become a sanctioned club of the College of Micronesia FSM.
The club currently has 10 members, some of whom identify as LGBTQ+ and others who do not but who want to stand with them in solidarity and to support them. It has two faculty advisers and an assistant adviser. Discussions during the bi-weekly meetings and who identifies as what are strictly confidential. That confidentiality is important to the members. "Frankly, it's not anyone's business how I identify," said Ardy, co-founder of the club.
Catch-phrases like, "God created Adam and Eve, not Adam and Steve", a phrase that appears to have first showed up on a protester's placard in the US sometime in 1977, long before any of the members of the club who identify as LGBTQ+ were born, have haunted their young lives for as long as they can remember.
"It's hard 'coming out' here," Ardy said. "We're not trying to convert anyone. We just want people who may be having problems to know that there is a support group available for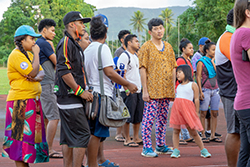 people who struggle with self-acceptance of their sexual identities and the judgment they face every day."
The club is open to anyone.
Ardy, who is from Kosrae spoke of his continuing devotion to the church that he grew up attending. "I felt like I had to do good works." He said that he often skipped lunch at school and brought his lunch money to the church because he wanted to go to heaven.
"Most people don't know the hardships people like me face." With tears in his eyes he said that when he was growing up it was hard to hear the message, "God loves you unless you're different." He still attends church but he has accepted himself regardless of the messages of condemnation.
Unlike Ardy, for the most part, Destiny of Pohnpei has cut ties with the church. She said she was always told at the church school where she attended that she could be whoever she wanted to be and that she should dream big but "not that! Don't go there," she said. But "there" was where she already was, so she boxed up the rejection and struggled on until she got out of secondary school. She also teared up while telling her story of the stigma she faces for being perceived as different from others. She has always been a social person and that has not changed. She participates in many groups at the college and says that the LGBTQ+ has helped her to accept herself.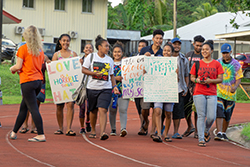 Melba of Kosrae said that when she was growing up she couldn't accept herself for fear that she would disappoint her family members. That fear has only recently begun to be relieved. She said that she was amazed at how hateful people can be toward others who are different from them, even ones that she loves and who say that they love her.
She said that after joining the club she "came out" to her brother. She expected to be rejected but she said that her brother said that he had suspected but that he loved her whether she was "bi-sexual" or "straight". She could not have been more surprised or affirmed. It was his reaction that has given her more courage to talk about what she's been through in her mind as she has struggled with what others wanted her to be and who she felt that she was.
She said that her mother's mind began to change after she relocated and gained friends who identified as LGBTQ. Still, Melba felt that he mother thought that while it was okay for her friends, it wasn't okay for her daughter. Melba was pleased to say that her relationship with her mother is healing and that she has begun to feel some acceptance from her.
Grace, a student from Australia said that she joined the group to stand in solidarity with students who were dealing with their differences. She had heard hurtful homophobic comments on campus and she had empathy for the students that had to deal with that type of discrimination on an everyday basis. She joined the group to be their ally; to let them know that someone would stand with them.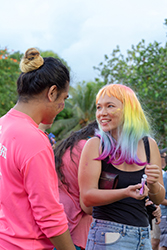 She and others said that the Pride Walk was an act of courage for some of the members and others.
"It's hard to stand up when all your life you've been told to sit down," Ardy said. But stand up they did in a courageous act of pride for who they are at the Pride Walk last Saturday.
They thanked Postmaster Ginger Mida and her family, Marstella Jack and many others for their support.