IOM restores antenna system in Pohnpei Disaster Coordination Building
Details

Category: News
Published: Tuesday, 25 December 2018 23:00
Written by Bill Jaynes
Hits: 1363
The International Organization for Migration (IOM)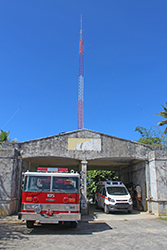 Strong winds had recently damaged the HF (high-frequency) and VHF (very high-frequency) radio antenna installed in the Pohnpei Disaster Coordination Building and disabled communications to the outer and main islands of Pohnpei. The International Organization for Migration (IOM) was approached by the Department of Public Safety to help restore the system, and thanks to the generous funding of USAID, was able to quickly respond to this request.
IOM began by surveying the damage, and with the help of the Pohnpei Division of Fire & Emergency Services (PDFES) in the Department of Public Safety, selected a local vendor who would be responsible for re-erecting and rust-proofing the antenna mast. IOM also supervised the painting of the antenna with white and red segments in order to increase its visibility for aircraft. The radios were then relocated to a designated area to allow for more effective communication. IOM took the lead and connected the system to a back-up battery to continue operations during unexpected power failures.
Mr. Patrick Carl, Chief of PDFES, as well as Pohnpei State's Disaster Coordination Officer, explained that the broadcasting range of the radios had increased from 5 miles to over 20 miles. He added that he looked forward to further increasing the range of the radios by placing repeaters on Ant Atoll, and thanked IOM for their support.
At the end of the project, PDFES and DECEM carried out a successful radio communication to ensure that the system was functional. Thanks to the combined efforts of IOM, DECEM, PDFES and USAID, communication to the outer islands through HF radio and to the main island of Pohnpei with VHF radio has been restored, and PDFES can now coordinate more effectively during a national disaster or a rescue mission.