Public Auditor hosts talent show for International Anti-Corruption Day
Details

Category: News
Published: Tuesday, 08 January 2019 02:13
Written by Bill Jaynes
Hits: 445
By Pohnpei Office of the Public Auditor
and Bill Jaynes
December 9, 2018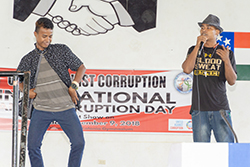 Kolonia, Pohnpei—The Pohnpei Office of the State Public Auditor (POPA) united with the Youth-4-Change to commemorate the International Anti-Corruption Day at the Kolonia/China Friendship Gymnasium. The event was a success with singing, dancing, video clips, and messages conveying the seriousnessof corruption and how we can help reduce, prevent and educate the youth and the public in Pohnpei. Corruption is a global concern which poses serious threat to thedevelopment of a country and its people and is a serious crime that can undermine social and economic development in all societies.
The International Anti-Corruption Day marks the joint international campaign efforts by the United Nations Development Program (UNDP) and United Nations Office for Drug and Crime (UNODC) in the fight against corruption.
The Pohnpei Public Auditor, Ihlen Joseph stated in his speech that, "Corruption is everywhere, in the family, in the church, in schools, in clubs and organizations andin the government." No country, region or community is immune to corruption. The theme for this year is 'United Against Corruption." which is the United Nation's global theme. The Youth-4-change worked with POPA in their program to cultivate creativity against corruption. There were seven different talents showcased on that day. Around 175 people showed up from all ages. The event was sponsored by UNDP.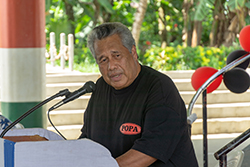 Performers used music and drama to convey the message that corruption effects everyone including those who are involved in it. There were solo acts, and group acts and music ranged from pop style to rap. The winners of the competition were Ozzy and Ray who told the audience that they had written and recorded the accompaniment for their rap only the night before. It had a catchy hook and was very well done from memory. The second place winners were LSJ, who sang a song they had written. Raymand Poetry won third place with their drama about a politician who runs on a platform of fighting corruption but in order to win the election so that he can fight corruption, makes a corrupt deal for campaign finances.
The other performances were good as well and judges decided to also give each of the fourth through seventh place winners a prize as well.
POPA hopes that the audiences captured the messages to be able to implement or share with their families and friends for a better Pohnpei.