Pohnpei holds first ever drum competition on New Year's Eve
Details

Category: News
Published: Tuesday, 19 March 2019 02:51
Written by Bill Jaynes
Hits: 1214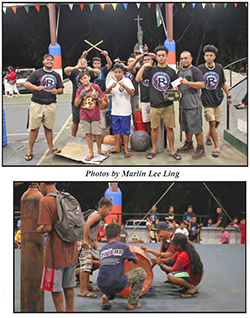 By Bill Jaynes
The Kaselehlie Press
January 4, 2019
Pohnpei—New Year in Pohnpei is a loud affair, of that there is no question. Tapping into some of that energy for positive purposes, CUYA (Central Union for Young Adults) and the Mayor of Kolonia Town sponsored a drumming competition at the Kolonia China gym at Spanish Wall Park. The idea was to give young people something positive to do on New Year's Eve and the competition end in time for young people to keep the 9:30 PM curfew.
Several teams participated for the top cash prizes while a healthy number of people in the crowd cheered them on. As has been the tradition, drummers banged on whatever they could get their hands on—sheets of tin, garbage cans, acetylene tanks, biscuit tins, fishing floats…whatever they could use to make percussive sound with makeshift drumsticks.
When the dust had settled, three teams were chosen as the winners. A team calling themselves the "Mwahn Squad" won the third place prize of $200. "Mwalok" won the second place prize of $300. "Manga Team" left the building with $500 in their pocket, the top prize of the evening.
The competition was the first ever of its kind. CUYA hopes to make it an annual tradition that young people can look forward to each year.