FSM donates to Yutu relief
Details

Category: News
Published: Tuesday, 19 March 2019 02:54
Written by Bill Jaynes
Hits: 816
FSM donates to Yutu relief
CNMI Office of the Governor
31 Dec 2018
I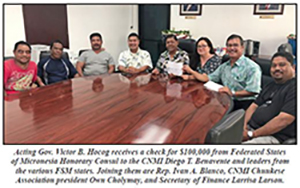 n a presentation ceremony on Capital Hill Friday, Federated States of Micronesia Honorary Consul to the CNMI Diego T. Benavente presented to acting Gov. Victor B. Hocog a $100,000 donation from the FSM to assist in recovery efforts relating to the damage the Commonwealth sustained from Super Typhoon Yutu.
Also in attendance were presidents of the different associations for each of the FSM's states, the chairman of Yutu relief efforts for FSM citizens, Rep. Ivan A. Blanco, along with Finance Secretary Larissa Larson.
According to Benavente, this donation is in addition to an earlier appropriation FSM President Peter Christian and the country's congressional leaders made in the same amount to support the relief efforts for Typhoon Mangkhut which hit Rota in September.
"I am pleased to accept this for our people here in the CNMI for further distribution to those severely affected by Yutu," said acting Governor Hocog who further expressed appreciation on behalf of Gov. Ralph DLG Torres for the generosity of our counterparts in the FSM, who also contributed manpower assistance to expedite the restoration of utilities in the villages.
For his part, Rep. Ivan Blanco said, "This is a very generous donation and a mindful one. With this being a season of thanksgiving, we cannot thank our leaders in the FSM enough for the help they have given us in the past, and most especially during this trying time."
Chuukese Association president Own Cholymay expressed the sentiments of his countrymen by saying that they feel blessed for all the support and assistance given to their citizens residing in the Northern Marianas.
Benavente also mentioned that along with the monetary and manpower donations given by the FSM government, they have expressed the desire to also provide construction workers and carpenters to assist in rebuilding homes damaged by the typhoon. In a meeting Benavente had with President Christian, he mentioned it was a "great idea because people do need construction professionals at this time." He also noted that local money was appropriated by the FSM to assist in travel expenses incurred for workers helping the CNMI's relief efforts.
After presenting the check to the Department of Finance, Hocog expressed gratitude for leaders from the FSM from all branches of the government as well as the consul general for coming out and seeing the effects of Super Typhoon Yutu has had on their compatriots in the CNMI.
"We'd like to see more leaders coming this way to meet with our FSM citizens to establish more connections among the citizens and residents in the Commonwealth and build a stronger relationship as we continue to expand and grow a better livelihood for them," he added.
Hocog also expressed optimism that the cash contributions for both Yutu and Mangkhut recovery will be used accordingly to help affected FSM citizens from both storms to return their lives back to stability.
Acting Gov. Victor B. Hocog receives a check for $100,000 from Federated States of Micronesia Honorary Consul to the CNMI Diego T. Benavente and leaders from the various FSM states. Joining them are Rep. Ivan A. Blanco, CNMI Chuukese Association president Own Cholymay, and Secretary of Finance Larrisa Larson.