CHINA donates STEM Building to OLMCHS
Details

Category: News
Published: Tuesday, 19 March 2019 03:26
Written by Bill Jaynes
Hits: 888
Our Lady of Mercy Catholic High School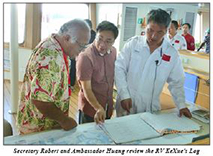 On December 28, 2018, Ambassador Huang Zheng of the Embassy of the People's Republic of China in the FSM formally announced the approval of a grant from the Chinese Government to construct a much needed building for Our Lady of Mercy Catholic High School (OLMCHS). It will be officially called as the FSM-CHINA FRIENDSHIP STEM BUILDING. In a simple handover ceremony at the Chinese Embassy in Palikir, Ambassador Huang handed the initial amount of $100,000.00 to OLMCHS Principal Sr. Krista Namio, MMB. A formal handover ceremony will be scheduled in early 2019 for the remaining amount of the grant.
OLMCHS Principal Namio, on behalf of the OLMCHS Board, Administration, Faculty, Staff, Parents, and Students thanked and expressed a sincere heartfelt gratitude to the Ambassador and to Government of the People's Republic of China for funding this valuable project. The project is part of OLMCHS' efforts to encourage its students to explore science and technology, and hopefully become doctors, nurses, and engineers, the professions that the island and country are in need of at this time. The proposed STEM Building will house the school's Science Laboratory, Computer Laboratory, and additional classrooms for future elective classes.
On the other hand, Ambassador Huang reiterated the Chinese Government's commitment to help improve the quality of education in the FSM. He further stated that this project is the start of many more future developments as part of the China- FSM Comprehensive Strategic Partnership jointly announced by H.E. Chinese President Xi Jinping and H.E. President Peter Christian of the FSM, in their historic summit at Port Moresby, Papua New Guinea last November 16, 2018.
On hand to witness this significant event were Mr. Zhang Weitao, the new Councilor and Deputy Chief of Mission of the Chinese Embassy, Mr. Wu Yibo, the new Second Secretary of the Embassy, Ms. Pearcylita Cubacub and Ms. Fatima Dollasa, both teachers of OLMCHS.