NGOs and Congress add "Fitness Zone" attraction on Pohnpei's causeway
Details

Category: News
Published: Tuesday, 19 March 2019 04:11
Written by Bill Jaynes
Hits: 917
By Bill Jaynes
The Kaselehlie Press
January 18, 2019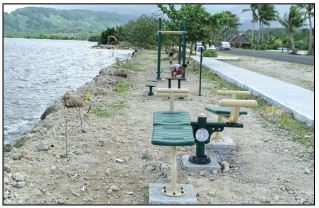 Pohnpei—During the times of the day when the sun isn't baking the road, many residents of Pohnpei have taken to exercising by walking or running on the new sidewalk on the causeway in Dekehtik. The sidewalk has made it much safer to do so and now, there is a new addition residents can add to their exercise routines—a new "Fitness Zone" located approximately halfway down the length of the causeway on the east side of the road.
On the day that we visited, three teenagers were working out on the machines while a cool breeze blew over the lagoon. A young boy, under the watchful eye of his mother was exploring other machines. That is one of the rules of the "Fitness Zone". Children under the age of 14 can use the machines but only with adult supervision.
The FSM Congress, Rotary Club of Pohnpei, and Mahi, International worked together to purchase and install several new weather resistant exercise machines, a task that was only just recently completed.
Senator Ferny Perman, chairman of the Committee on Health said that non-communicable diseases are rampant in Pohnpei and part of the cause is a lack of exercise. With that in mind he called John Schroer of Mahi International to see if he might be able to help to acquire exercise equipment. The project took off from there.
Perman said that Congress provided $30,000 for the "Fitness Zone".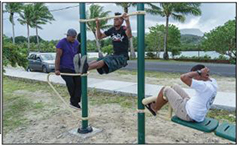 Schroer was not available for comment but Steve Finnen of the Rotary Club of Pohnpei said that both Mahi International and the Rotary Club bought two of the machines each. He said that Mahi International additionally coordinated the purchase and transportation for the machines. For its part of the purchase, the Rotary Club of Pohnpei purchased two machines at a cost of $4000. $2000 came from locally raised funds and $2000 came as a grant from Rotary International.
Instructions on how to use the machines are posted at each of the many exercise stations. There is also a sign stating the rules for safe use of the "Fitness Zone" to avoid injury. There is no charge for use of the machines and users assume all risk and responsibility for their use.
The equipment appears to be extremely sturdy and is made from weather resistant materials.