The State of the FSM's Compact Trust Fund
Details

Category: News
Published: Tuesday, 19 March 2019 04:15
Written by Bill Jaynes
Hits: 1058
FSM Information Services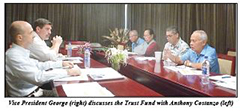 PALIKIR, Pohnpei—On January 15th, 2019, the Honorable Yosiwo P. George, Vice President of the Federated States of Micronesia (FSM), as well as members of the Cabinet and the Office of Overseas Development & Compact Management, met with the Executive Administrator of the Trust Fund for the People of the FSM (Trust Fund) Anthony Costanzo. The purpose of the meeting was to discuss the present state of the Trust Fund. Also present at the meeting were Herman Semes Jr., Special Assistant to the Vice President, Travis Pruit, of Mercer Financial Group, and Sam Witten, from the law-firm Arnold & Porter.
As of November 30th 2018, the total value of the Trust Fund was $642,183,870. By comparison, the total value of the Trust Fund was $564,970,738 the year prior. Since it began in 2005 the Trust Fund has seen a performance return of 5.7%. Fiscal Year (FY) 2018 (i.e. October 2017 through September 2018) saw growth of 6.77% for the Trust Fund as a whole.
Among the many points of discussion, Vice President George asked Mr. Costanzo how FSM citizens can compare the performance of our Trust Fund to similar funds. Mr. Costanzo advised that the Trust Fund Committee develops benchmarks to compare the Trust Fund and its components, though he acknowledged that although other Micronesian countries (e.g. Republic of Nauru, Republic of Kiribati) have sovereign wealth funds similar to the Trust Fund—comparing ours to theirs is difficult as information can be difficult to access. By contrast, our Trust Fund's information is publicly available for citizens' review and is routinely updated on this website: https://fsmcfatf.com/
FY 2018 saw the Trust Fund increase by $71,115,714—which is inclusive of a $32,242,320 direct contribution. Contributions, whose sizes increase annually, are formally from the United States Government—though the increases in Trust Fund allocation is directly related to the decrease in allocations to FSM's programmatic funding. (In other words, the FSM has less money from the Amended Compact to use every year but the money doesn't disappear—it's going into the Trust Fund, i.e. we're saving it for after 2023). Current projections are that the Trust Fund will reach slightly over one billion dollars ($1,000,000,000) by 2023. At that point, the Trust Fund must focus on a distribution policy that sustains its growth while also ensuring the continued delivery of government services.
Vice President George eloquently stated "The people of the FSM need and deserve quality services—and the Trust Fund is a market-based instrument, meaning it's sensitive to economic and financial performance in both the United States and globally. Some years we'll receive more and some years we'll receive less. It's difficult to have confidence in planning when there is a lot we don't know…. The Trust Fund was presented to us as an exit strategy, from direct grants to something that will build up the capability of our country to sustain itself."
In response to the Vice President's statement, Sam Witten advised that "There is a real awareness of the risks of the Trust Fund's assets in 2023 not being adequate for the goals they're intended for…. Back in 2003, when they [FSM and USA] signed the Trust Fund…the negotiators placed a marker that [distribution plans] have to be done in advance. So 2019 and 2020 are important years to discuss these issues."
The FSM Government is dedicated to a multi-pronged approach to ensuring the future financial sovereignty of our Nation, from increased transparency in tuna fishing to transitioning FSM PetroCorps' mandate to become a renewable energy company. State and Municipal Governments, and citizens and stakeholders alike, are encouraged to maintain a positive attitude towards the future and to take a proactive role in improving the lives and livelihoods of their communities. As His Excellency President Peter M. Christian stated in his inaugural address, "Unity is our greatest strength."