FSM & Japan relations: already strong, to be even stronger
Details

Category: News
Published: Tuesday, 19 March 2019 04:50
Written by Bill Jaynes
Hits: 951
FSM Information Services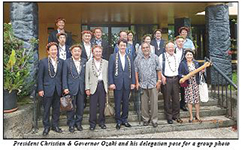 PALIKIR, Pohnpei—Japan and the Federated States of Micronesia (FSM) are close friends; as His Excellency President Peter M. Christian noted at the 30th anniversary of FSM-Japan relations, our history goes back more than 100 years. 20% of FSM citizens have a Japanese ancestor, and Japan International Cooperation Volunteers (JICA) are commonly seen on the ground assisting our people. Our relationship is already strong, but there are signs of it becoming even stronger.
On January 18th, 2019 President Christian and members of his Cabinet met with the Honorable Kentaro Sonoura, Special Adviser to Prime Minister Shinzo Abe, and a delegation of public and private partners. President Christian and Special Adviser Sonoura discussed issues of mutual interest, ranging from the FSM's needs in cracking down on illegal, unreported and unregulated fishing in our oceans to Japan's commitment to permanently join the United States in future iterations of Operation Christmas Drop. (Japan, and Australia, joined the U.S. in December 2018.)
On January 11th, 2019 President Christian and members of his Cabinet met with the Honorable Masanao Ozaki, Governor of Kochi Prefecture, and a delegation of officials representing their legislative branch, environmental protection, healthcare, and more.
"We want to see if we can learn from your experience," President Christian said to Governor Ozaki, highlighting our Nation's vulnerability to climate change and gaps in our capacity to provide cutting-edge healthcare. Governor Ozaki discussed how Kochi is similarly prone to climate-changed related disasters, such as flooding and earthquakes, and confirmed that just as much as the FSM may wish to learn from Japan that Japan, too, wishes to learn from the FSM.
"Then we will share," said President Christian, who told a story about how it was Micronesians who taught the Hawaiians how to navigate by the stars again. "We still have them, traditional navigators…they go to Osaka, Okinawa…we sailed our canoes, tied with fiber from coconut which is strong and flexible." President Christian gifted Governor Ozaki an example of such fiber, and in return President Christian received both a painting and, in a moment that genuinely moved the President and the other attendees, letters written by the principal and students of Kochi Prefecture's Misato Elementary School.
The President couldn't resist: he began to read the letters out loud, starting with Principal Osamu Tagashira's. "Dear Mr. President," the Principal's letter began, "thank you very much for visiting Misato Elementary School when you came to Japan in January of 2018. I remember it like it was yesterday, waving the small Micronesian flag with the students to greet you. As I watched you and the students interacting with each other, I was reminded of how much I love children."
President Christian suggested to Governor Ozaki and the Japanese delegation that perhaps each FSM state should have a people-to-people partnership with a Japanese Prefecture. Also discussed were broad thoughts processes on how FSM and Japan can maximize conservation efforts in our oceans, and how Kochi Prefecture and Japan at large might be able to assist the FSM with specialized medical equipment, e.g. containerized mobile equipment for mammograms and other diagnostics.
The people and Government of the FSM are thankful for their close relationship with the people and Government of Japan. Our relationship is already stronger than can be measured, and we're committed to making it even stronger.
FSM citizens residing in Pohnpei State and wishing to engage with Japan's unique history and culture may wish to be aware of a Japanese Film Festival to be held on February 5th and 6th at 5:00pm at the Pohnpei Cinemas, and a Japanese Cultural Festival to be held on February 9th at the Our Lady of Mercy High School Gymnasium.