Hong Kong's divers and marine conservationists target of Yap's tourism representatives
Details

Category: News
Published: Tuesday, 19 March 2019 04:54
Written by Bill Jaynes
Hits: 896
Yap Visitor's Bureau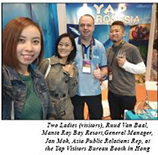 Colonia, Yap- Ruud Van Baal, General Manager of Manta Ray Bay Resort and Yap Divers, attended the Diving & Resort Travel Expo in Hong Kong recently where he joined the Yap Visitors Bureau's booth with Jan Mok, public relations representative in Asia for the Yap Visitors Bureau.
"The DRT show is an excellent tool for us since it brings together the largest gathering of diving enthusiasts, marine conservationists and those who simply have a passion for the underwater world," said Van Baal. "We've seen an increase in inquiries and bookings from that market since we first began participating in the show in 2017."
With attendance estimated at 50,000 visitors, Mok added that they "talked to many visitors, dive operators and the media." Follow-up after the show included sending digital booklets about Yap's many options for adventure travelers who requested more information.
The Shanghai DRT Show is next on YVB's 2019 schedule on April 12-14 followed by the Taiwan show on May 31-June 2.