Ambassador Fraser says Australia "a willing and able partner" at Australia Day address
Details

Category: News
Published: Tuesday, 19 March 2019 05:25
Written by Bill Jaynes
Hits: 1570
The Kaselehlie Press
January 25, 2019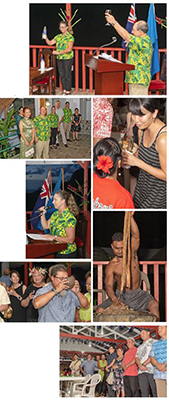 Pohnpei—The Australian Ambassador to the FSM, George Fraser hosted this year's celebration of Australia Day at Cupid's Bar and Grill in Nanpohnmal during a dinner reception on the evening of January 25. Acting Secretary for Foreign Affairs represented the FSM at the event which began with a traditional Pohnpeian sakau ceremony.
The Ambassador also used the occasion to introduce Takuro Steele, the Embassy's new Second Secretary, and his wife Mariline to those who had not met them during the previous week's reception farewelling Eliza Woolcock and her partner Jac Steiner and welcoming the Steeles to the FSM.
The text of Ambassador Fraser's speech follows:
"The intent of Australia Day is to celebrate the unity, cooperation and achievements of the immensely diverse peoples in our country. Diverse in background, diverse in abilities and diverse in ethnicities, religions and views but by-and-large all choosing to work together for the common good.
Putting aside the effect of a few would choose otherwise, Australia is one of a few really great places to live.
"Its people are productive, prosperous and generous, and importantly they wish the same for others. They take a strong interest in what governments do with their taxes and they support the desire of successive national governments that our Pacific island neighbours also be secure, stable and prosperous.
"To this end, Australia welcomes cooperation with all development partners working towards that goal.
The past two years have been brimming with announcements regarding Australia's work and plans in the Pacific.
"Since Prime Minister Turnbull's announcement of our 'Step Up' during the Forum leaders meeting here in 2016, there has been an unprecedented amount of thought and many activities applied across Australia's Pacific missions to implement that welcome directive.
"Our work is many-facetted but my remarks tonight reflect on just one simple concept – and that is Australia as a willing and able partner, here in the North Pacific and elsewhere.
"Together with national governments, Australia will continue to consult on their specific needs; consult on means to address those needs; and to consult on its own regional development programs.
"We are currently seeking input from Pacific countries on the design of our new Infrastructure facility, cyber security needs and more.
"Our country is fortunate to have a sizeable economy and an extensive government infrastructure. We would be happy to explore how our economies of scale can assist our partners – an example is our testing of therapeutic drugs purchased by Pacific health authorities.
"Australia is increasingly being recognised as an innovative and technologically advanced country; but we also sponsor innovation elsewhere. In 2016, Australian Aid partnered with Tata Group to issue the global Water Abundance X-Prize challenge, which was to extract a minimum of 2,000 litres of water from the atmosphere daily, using 100 percent renewable energy, at a cost of no more than two cents per litre.
"In 2018, a prize of $1.5 million was awarded to the joint winners, and $200,000 to another finalist so they can continue their development work to bring sufficient potable water to communities in need.
A central pillar of our foreign policy is promoting human rights, especially those of women and people with disabilities. We do so now on the Human Rights Council, including on issues of importance to the Pacific. I am pleased to announce that Australia will also support the Marshall Islands' candidacy for the Council in the 2020 to 22 term so as to amplify the Pacific voice internationally.
"I encourage people in the Pacific to seek to explore study opportunities in Australia, privately or under scholarship; and I undertake to continue to press for increased scholarship funding. Opportunities for post-graduate study in Australia for those already in the workforce can be flexible and they deliver valuable qualifications.
"People are the powerful renewable resource of the Pacific. It is imperative that this resource be developed. Australia has the system to do it well, and the experience to prepare for young people for business relations with your nearest neighbours in Asia, as well as the Pacific.
"Deputy Secretary, Australia stands ready to partner with regional countries in meeting the needs they identify and to join in development on their terms.
"We seek also to join or complement programs of other development partners in this task."