Pohnpei's Auditor recommends centralization of local government financial activities to curb losses
Details

Category: News
Published: Tuesday, 19 March 2019 05:33
Written by Bill Jaynes
Hits: 882
By Bill Jaynes
The Kaselehlie Press
January 25, 2019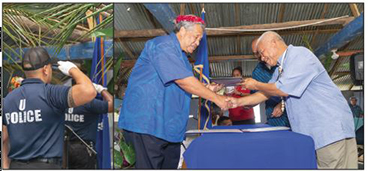 U, Pohnpei—Today, 200 people or more gathered at the U nahs as U Municipality held a formal ceremony at the closing of its historic Second Constitution Convention.
The 17 delegates to the Constitutional Convention proposed 17 proposed amendments to the Constitution after three months of intense and comprehensive review. The number of amendments proposed as compared to the number of delegates was coincidental.
In 1985, U Municipality ratified its Constitution to become one of Pohnpei's 11 municipalities. In March of 2018, the people of U amended the Constitution paving way for a second constitutional convention to be held in order to review and propose changes to the Constitution necessary to guide the government forward. 17 delegates were elected and on November 1, 2018 the review process began. During the closing ceremonies the President of the Convention Mr. Adelihno Lorens presented the 17 proposed amendments passed by the Convention which will be put to vote on March 5, 2019.
After Lorens speech, each delegate to the Constitutional Convention individually signed the Constitutional amendments they had proposed and were presented with a certificate by His Highness the Iso Nahnken of U, Ihlen Joseph.
Organizers say that there will be a public awareness campaign prior to the election. They say that in conjunction with the awareness campaign there will be a public event on March 3rd that the public will be invited to participate in prior to the March 5 vote. Meanwhile, Mason Albert has listed all of the proposed amendments in his Facebook page at www.facebook.com/mason.albert.3
In attendance to witness the closing ceremony event included His Excellency Peter M. Christian, President of the Federated States of Micronesia; The Honorable Marcelo Peterson, Governor of the State of Pohnpei; The Honorable Fernando Scaliem, Speaker of the 9th Pohnpei Legislature. Other leaders of both the State and Local Governments were also in attendance to observe the event. The Mwoalen Wahu and other leaders of U Municipality joined its citizens to witness the monumental achievement in U's history.