Japanese Embassy hosts "Japan Week" in Pohnpei with a Film Festival and Japan Festival
Details

Category: News
Published: Tuesday, 19 March 2019 05:54
Written by Bill Jaynes
Hits: 1168
Embassy of Japan
February 9, 2019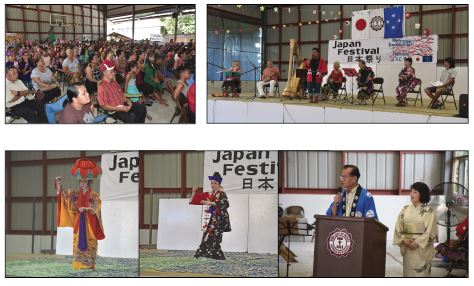 Pohnpei—This week the Japanese Embassy to the FSM and Japan Foundation hosted Japan week with its 7th Japan Festival on February 9 and the 7th Japan Film Festival.
Just a few months ago Japan and FSM celebrated the 30th anniversary of diplomatic relations between the FSM and Japan.
The Film Festival, hosted by the Embassy of Japan and Japan Foundation, was held on February 5th and 6th at Pohnpei Cinemas. More than 400 people came to see the four movies: "Survival Family", "Time of the EVE", "The Complex", and "It's a Beautiful Life" that were shown. A lot of people came on their way home from their schools or jobs and enjoyed the films very much.
On February 9th, Japan held the 7th Japan Festival at Our Lady of Mercy High School gymnasium. The gym was donated by the Embassy of Japan under the Grant Assistance for Grass-Roots Human Security Projects.
In addition to the many booths depicting Japanese culture and customs, the audience of more than 1000 people enjoyed several performances by locals and Japanese performers. Those performances included:
Taiso Performance by Pohnpei Catholic School
Music Performance (If you're Happy and You Know It, Hokey Pokey) by Ohmine and Kolonia Elementary School

Music performance (Till the World One) by Nett Elementary School
Dance Performance (Soran-Bushi) by Ohmine Elementary School
Dance Performance (Momoland) by Moana Girls
Acapella Performance (Sukiyaki) by Pohnpei Catholic School
Acapella Performance by Kenny's Band
Song Performance (A Gift Without A Stamp) by Micro-Japan Club
Japanese Music Performance by Green Breeze
Traditional Okinawan Dance by Okinawan Tradition Association
Kacha-shi (Traditional Okinawan Dance) by Everyone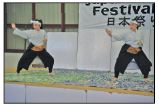 Ambassador Ryoichi Horie and his wife Yuko san also performed to the delight of the audience.
As a part of the promotion of Japan's unique cultural customs and traditions, a group of traditional dancers from Okinawa, Japan performed as the main and special guests. The audience was attracted by their beautiful costume and dance with unique music. After their performance, the children and audience enjoyed "Kacha-shi" (Traditional Okinawan dance) very much.
There were three Japanese cultural booths; Origami, Calligraphy, and Yukata. Furthermore there were PR booth about ODA, JICA volunteers and Japanese culture and the booth by the Okinawan Tradition Association.
The audience seemed to really enjoy experiencing Japanese culture at the event.