President Christian meets Honorary Consul to Republic of Korea
Details

Category: News
Published: Tuesday, 19 March 2019 05:58
Written by Bill Jaynes
Hits: 834
FSM Information Services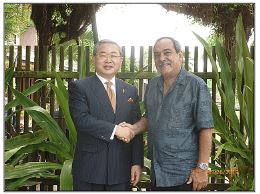 PALIKIR, Pohnpei—On January 26th, 2019 His Excellency Peter M. Christian, President of the Federated States of Micronesia (FSM), met with FSM's Honorary Consul to the Republic of Korea (ROK), Dr. Myoung-Jin Shin, and Joon-hyun Jough, Director of the Korea Importers Association's (KOIMA) International Cooperation Office. President Christian thanked Dr. Shin and Director Jough for visiting our Nation, and they, along with some members of the President's Cabinet including Secretary of Resources & Development Marion Henry, Secretary of Foreign Affairs Lorin S. Robert, and Ambassador Carl Apis, discussed FSM-Korea relations and potential economic developments.
Dr. Shin and Director Jough showed a video about KOIMA, which manages 130 trade relations with over 70 countries in the world. "We are the fifth largest exporter in the world," said Dr. Shin, "and we are the fifth largest capital market…but we must import from other countries to have a balance. So I'm hoping Micronesia and Korea can have a [healthy] trade relationship in the future."
"What is it that you have that we need, and what is that we have that you could use?" asked President Christian. The discussion ranged on a number of possible explorations for cooperative economic trade relations, to be further discussed between the FSM Government and KOIMA. President Christian remarked that two areas the FSM can maximize are fishing products—cans, yes, but also other manufactured, developed products—and our tourism sector. President Christian noted that countries that rely exclusively on natural resources without its own means of producing goods tend to be less economically sovereign than countries that develop consumer products.
Developing and pursuing meaningful trade activities between FSM and ROK, including support assistance for our local fisheries with genuine onshore investment in tangible, job-creating infrastructure, would benefit both of our nations. Developing and implementing such bilateral trade activities, including the promotion of tourism, is the objective of the FSM Government.
The FSM Government is committed to generating and maintaining positive relations with all countries and peoples of the world, and to the development of economic opportunities for the citizens of our Nation. Interested in learning more about FSM's foreign relations or its current economic projects? Visit the Department of Foreign Affairs website at https://dfa.gov.fm/ or visit the Department of Resources & Development website at http://www.fsmrd.fm/.