Pohnpei Department of Education celebrates Education Week
Details

Category: News
Published: Tuesday, 19 March 2019 06:02
Written by Bill Jaynes
Hits: 1440
By Bill Jaynes
The Kaselehlie Press
February 16, 2019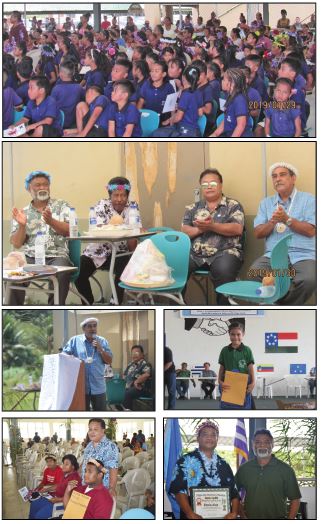 Pohnpei—Beginning on January 28, the Pohnpei Department of Education celebrated Education week with the theme "Owning our successes while focusing on our strengths".
There were five separate awards and celebration events held for the 34 public schools in Pohnpei. The first was held on January 28 for the Southeast School Districts at the Madolenihmw gym. On January 29, the event was at the Nett Gym for the Northeast School Districts. The celebration for the Southwest School District was held on January 30 at the Nanpei Memorial School. On January 31, the Northwest School District celebrated at the Kolonia Gym. The last celebration was at Pohnpei Island Central School at the PICS gym for PICS High School.
Many cash awards were presented to students, educators, and support staff at each of the celebrations. 240 students and 18 staff members from the Northwest School District which consists of all Kolonia and Sokehs schools received awards. 106 students and 15 staff members from the Southwest School District which consists of all of the schools in Kitti received awards. 15 staff members and 174 students received awards from the Northeast School District which consists of the schools in Mwoakilloa, Pingelap, U and Nett Schools. From the schools in Madolenihmw, the Southeast School District, 115 students and 15 staff members received awards. 16 staff members and 38 students from PICS also received awards during their celebration.
Three teachers out of all of the teachers in all school districts were named as teachers of the year. Mary Aldis of Kolonia School was the second runner up. Melza Miguel of Wone School was the first runner up. Erwin Miguel of Saladak School was named as the very top teacher this year. The selection of the teachers of the year was based on classroom observation with the criteria of quality of lesson delivery and classroom environment. All teachers must have met accreditation standards.
One school of the year was selected from each of the school districts. Ohmine was named school of the year for the Northwest district. In the Southwest district, Nanpei Memorial High School won the honors. In the Northeast, Saladak Elementary School was named as school of the year. Pohnlangas Elementary School was the school of the year in the Northeast. For PICS, which is only one school, organizers instead named a department of the year. T&I won that honor.